Welcome to your home for all things related to questioning, challenging, and deconstructing your faith! As a Faith Deconstruction Coach it's my #1 goal to support you as you break free from toxic religion and cultivate a nourishing spiritual life.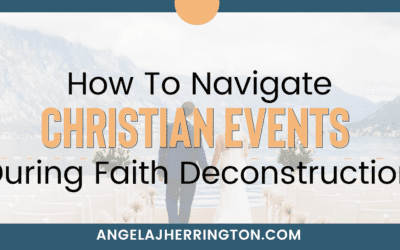 During deconstruction, many of us step back from attending church, but some events like funerals, weddings, and holiday celebrations draw us back into spaces that feel risky. So, what do you do when you 'need' to go, but your body is panicking, or you aren't sure what to say, how to act, or if you even want to go? 
It's important to remember you can always say no to an event and respectfully decline, but sometimes you need to be in a Christian space because it's important to you or someone you love. With that in mind, let's dive into six ways of navigating Christian events while deconstructing your faith.