Leaving a traumatic religious experience usually leaves people feeling lost, confused, and unsure of who you are and what you believe.
Religion makes up a significant portion of your identity, and leaving it behind leaves a giant hole in who you are. But fear not, my friend. Today we're going to chat about how to learn to trust yourself after leaving toxic religion.
Learning to trust yourself is possible, and it starts with these simple steps:
1. Recognize that the trauma you experienced was not your fault.
You were not in control of the situation, and it's okay to feel angry, sad, or confused about what the Church taught you and why you are deconstructing while so many people you love still believe. It's also okay to take your time to heal and process your feelings.
Don't let anyone pressure you into moving on before you're ready. One of the hallmarks of a traumatic religious experience is the Church and Christians telling you what to think and believe. That background makes it hard to trust your thoughts and feelings. But here's the thing: it's okay to question. In fact, it's healthy. Let yourself ask hard questions and explore your doubts and beliefs. Be kind to yourself as you do so because it will feel reeeeeeally uncomfortable pushing back on the limits and stories they told you.
It's okay to make mistakes and get it wrong as you deconstruct your faith. It's completely normal and a part of the process. Don't get held up on being right because you might be in the unknown for a while. 
Remember that you're doing the best you can with what you have. If something doesn't feel right to you, trust your instincts. You don't have to justify your feelings to anyone else. Remember that toxicity is a human issue, not just a Church one, so take everything with a grain of salt. It's wise to keep in mind that no one knows all the answers. It's a common tendency in deconstruction to throw away Christianity when leaving toxic religion and then grab onto a new belief with a fierce hold. Remember that you are safe, you can trust your body, and you will be okay.

Giving yourself those reminders will come in clutch when your gut gives you a nudge to move toward something or get out as fast as possible.
4. Take baby steps and celebrate every, single bit of forward movement.
Rebuilding trust takes time, so start with small things and work your way up. For example, if you've always been taught to follow the rules, try breaking a minor one (like staying up past your bedtime) and see that the world doesn't end. Trusting yourself again takes time.
It's pretty essential to be patient with yourself and take things one step at a time. Don't feel like you have to have everything figured out right away. Instead, focus on small wins and celebrate your progress.
5. Seek out supportive people.
Surround yourself with people who love and accept you for who you are without judgment or pressure. Whether it's a support group, an online community, or just a group of friends who understand what you're going through and are also leaving toxic religion or who have created lives they love outside of the Church, people like this can make all the difference. One of the best parts of the internet is finding people just like you all around the world.
Need help to figure out where to start? I created The Wilderness Community for deeper support, and I also have my free Facebook Group where you can ask questions and be a part of growing conversations around deconstruction.
Contrary to what you may have heard, being around people who make you feel good about yourself is a good thing, not a sign that you don't have accountability and are on the highway to hell. 
6. Widen your lens and get curious about what you haven't seen yet.
Give yourself permission to explore and see what else is out there. Think of all your experience as books in a library. You have many books that clearly state what you should believe about the world; now it's time to balance out that bookshelf. Find other voices, learn about different religions (or even denominations)and belief systems, and find what resonates with you. Remember that believing in something different from what you were taught is okay.
If you are curious about where to start with books, check out this list I made. Books, not your favorite? That's okay; here's a list of some of the deconstruction podcasts I recommend.
7. Practice radical self-care and generous self-love.
Trauma takes a toll on both our physical and emotional well-being. It sounds trite, but it's true. Taking care of yourself while you deconstruct your faith might look like getting enough sleep, eating well, exercising, or doing things that bring you joy. You can discard the martyr complex for complex proteins and a Pinot Grigio without guilt.
Remember, trust takes time to build, and it's okay to have setbacks along the way when you are leaving toxic religion.
But with patience, self-compassion, and a willingness to learn and grow, you can learn to trust yourself again after traumatic religion. I believe in you. You are strong, capable, and worthy of love and respect. You've got this, love.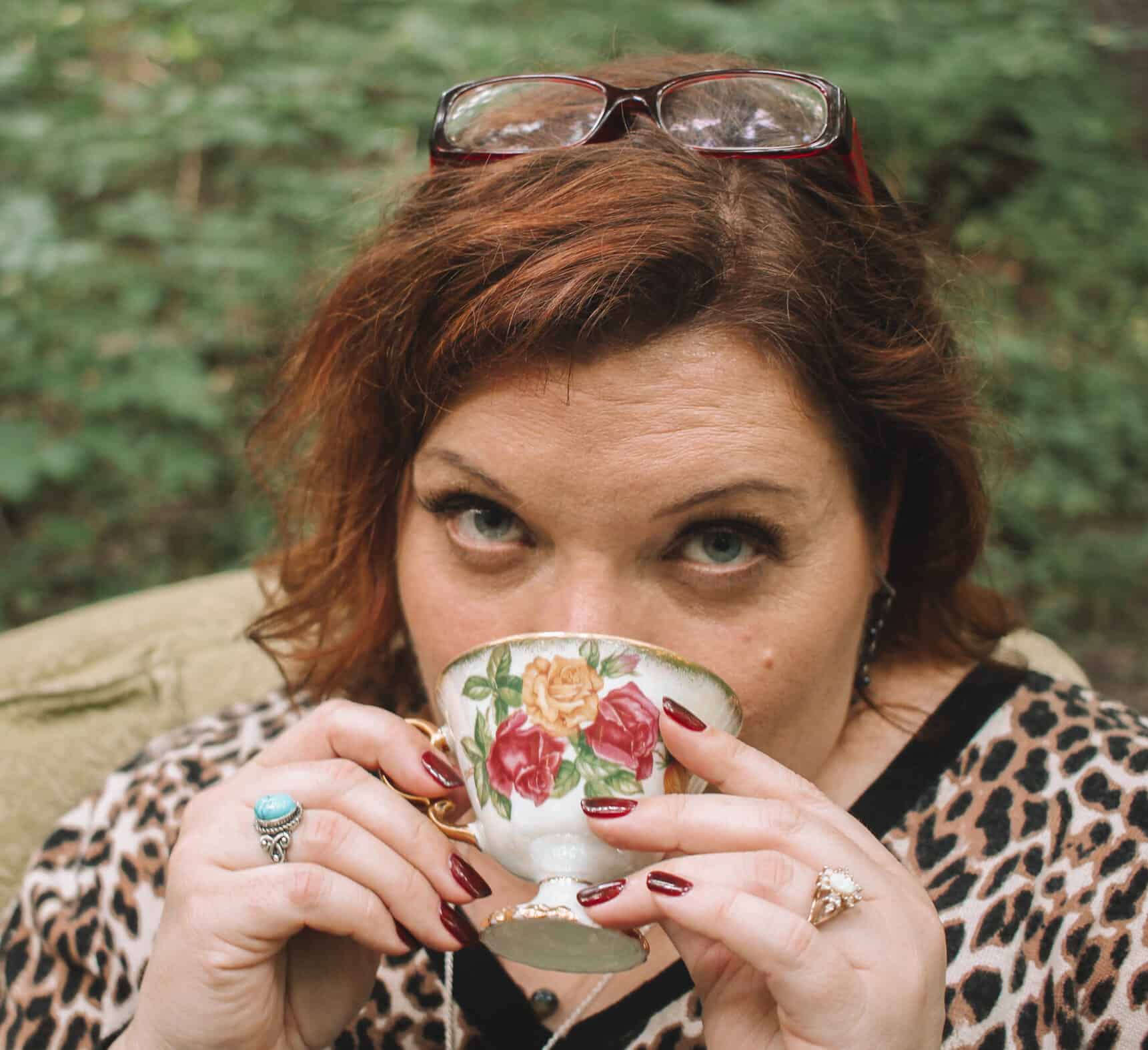 Hey there friend! I'm Angela J Herrington, MA, LSCC and I'm a Faith Deconstruction coach who provides soul care for people who are untangling from toxic religion.
As a certified life coach and seminary-trained online pastor, I have a lot of experience helping people connect with God. But this is also a very personal journey for me.
For the last decade, I've been on my own journey to break free from learned smallness and step into wild sacred holy womanhood. Long story short, after finding faith in my early 30's I began to realize that what I was hearing from the church about women didn't always line up with what God was telling me. I loved God but realized the church was teaching some really toxic stuff.
So this Enneagram 8, first born, Gen Xer started deconstructing. I questioned and challenged everything I thought I knew about faith, gender, and myself.
It was messy and took a lot of work to sort it out. Therapy. Coaching. Bodywork. Spiritual healing. Conferences and retreats. And even a couple of college degrees.
You name it…I tried it.
But the thing that made the biggest difference was the presence and support of wise people who helped me up when I didn't know where else to turn.
That's why in September 2021, I created and hosted The Deconstructing Faith Summit. I gathered 20 phenomenal deconstruction experts to share their expertise and hosted over 1100 attendees in the week-long virtual event. Those who attended realized they weren't alone, had a safe space to ask questions, learned dozens of strategies to help them deconstruct, and released tons of pent-up emotions they didn't even know they were carrying around.
We laughed, we cried, and we danced, but the best part was…We did it together.
It was AMAZING and it was just the beginning.
So now, I'm doubling down on my commitment to create an inclusive support system for people, like you, who are longing to get away from toxic religion and cultivate a nourishing spiritual life.
I WOULD BE HONORED TO BE YOUR GUIDE, BE BY YOUR SIDE THROUGH THIS ENTIRE PROGRAM, UNCOVER WHAT'S HOLDING YOU BACK, AND CO-CREATE A PLAN TO BREAK FREE.