During the COVID restrictions of 2020, and 2021, many evangelical leaders mistakenly believed that as soon as restrictions were lifted, there would be a revival in church attendance and a zeal for all things Christian. But that's the opposite of what happened.
Because of the sharp drop, many pastors, and Christians are asking themselves, "Why are so many people deconstructing their faith lately?" Some believe restricting Christians from being in the Church building was the core reason for the decline. But those of us inside the deconstruction community can tell you that COVID closing church doors opened the opportunity for many people to step out of toxic releigious spaces with less backlash than pre-COVID. A strange thing happened….Many noticed they were hapier annd even more spiritually fulfilled. Tons of people decided they were tired of trying to make it work and didn't go back.
That discontent with the church is why we see such a large number of people leaning into faith deconstruction.
COVID was not the catalyst. COVID was not the source of the current surge of deconstructions. Nor was it a catalyst for deconstructing. What it DID do, was create space. It completely changed the paradigm for so many of us. Things we took for granted would always be the same, like Sunday attendance at church was no longer the same. People lost jobs, family, and friends, and routines were upended worldwide, causing many to take stock of what was truly important in their lives.
Reducing their presence in the church opened the door for many to explore the deconstruction they had been avoiding for a long time.
After years of Black Lives Matter activism being met with blatant racism and hate within the walls of many churches, people had the space to see clearly. The church's stance on centuries of gender bias toward women, anti-immigration sentiments, hatred for refugees, and disdain for the 2SLGBTQIA+ community only metastasized. Things weren't right in the church, and people began to feel disenchanted by the outward expression of what was supposed to be a loving community.
All of this helps to answer the question, "Why are so many people deconstructing?" (and it had nothing to do with laziness or weakness.)
So as the decrease in COVID restrictions happened, mass reentry to the church did not occur. Those of us in the deconstructing world were not surprised by this; it actually aligned with predictions we made early in the COVID period.
A common misconception within the church walls is that deconstructors simply want to give up their faith. The belief is those who deconstruct are motivated by a lack of discipline, pride, and an unwillingness to bend to the authority of God and/or the church. From the hundreds of people I've helped deconstruct, this isn't true and is the exact opposite of the truth.
Those deconstructing their faith come to the table conflicted and looking for a way to hang on to the God they love while releasing themselves from the toxic religion that is hurting so many people.
So, why are so many people deconstructing their faith? Because they don't feel like staying where they are is going to help them flourish spirtually. It's a choice, but it's certainly not the easy way out. I would even argue that deconstruction is the hard path. It would be much easier to keep pretending everything is okay or give up on faith and walk away.
Deconstructing requires us to live in the tension between a God we've been taught is good, loving, and holy and a church unwilling to bend towards love.
Giving in to love requires many very powerful people to relenquish much of the power it has taken from those it has marginalized. Marginalization is one of the most potent tools toxic religion has and it's been on full display. Whether it's the current explosion of public displays of White Chrisitan Nationalism or the horrific anti-trans laws conservative states are pushing through right now, love is not driving Christian culture right now.  The tree and the fruit she's producing are both rotten, but faith deconstruction isn't about putting our own needs aside and fighting for fiery revival and reformation in the church. Those promoting that path are simply feeding into the toxic belief that our efforts should focus on preserving the insitution of the church, even as millions of marginalized people suffer abuse within her walls. 
Someday, we may return our attention to reforming the church, but only after tearing down our false doctrines and doubling down our commitment to the imbalanced power structures.
Perhaps a revolution within the church is a better description of what's needed. Many of us in the deconstruction space long for that. We long for a vibrant, healthy church, but we are also refusing to wait on this giant slow-moving system to right itself before dealing with our private faith.
How do we do we reform our own faith? By bowing out of the toxic spaces, challenging our own bias, and commiting to dismantling oppressive systems.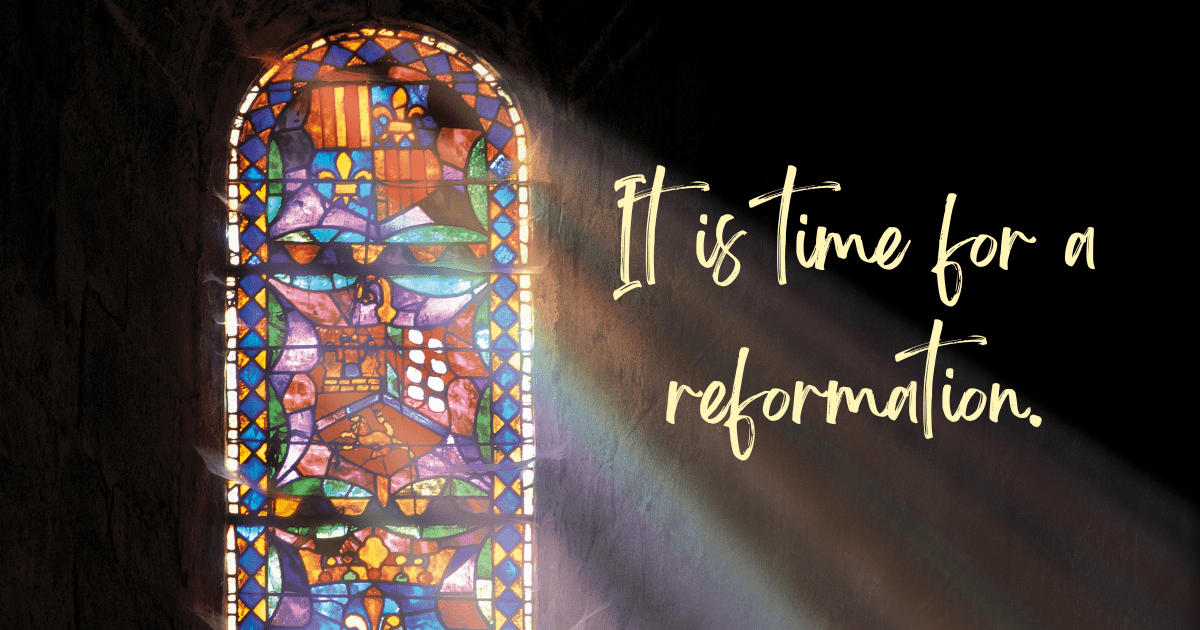 Listening to those often marginalized voices without defending or centering our own story is the only way to uproot the toxicity within ourselves.
And removing the toxicity within ourselves is the only way to stop passing those beliefs on to our children, co-workers, and those we want to help create a healthy spirituality.
So yes, reformation is needed, and yes, deconstruction is necessary. One cannot be sacrificed for the other. Shaming people doing the holy work of deconstruction isn't going make either path easier. The best explanation for the loud and brash criticism of deconstruction is because listening honestly to the people who choose it feels threatening. It creates the very real possibility of asking more personal questions on their own faith.
Which is why the question, "Why are so many people deconstructing their faith?" is one that many Christians are afraid to explore and therefore, will never find an honest answer.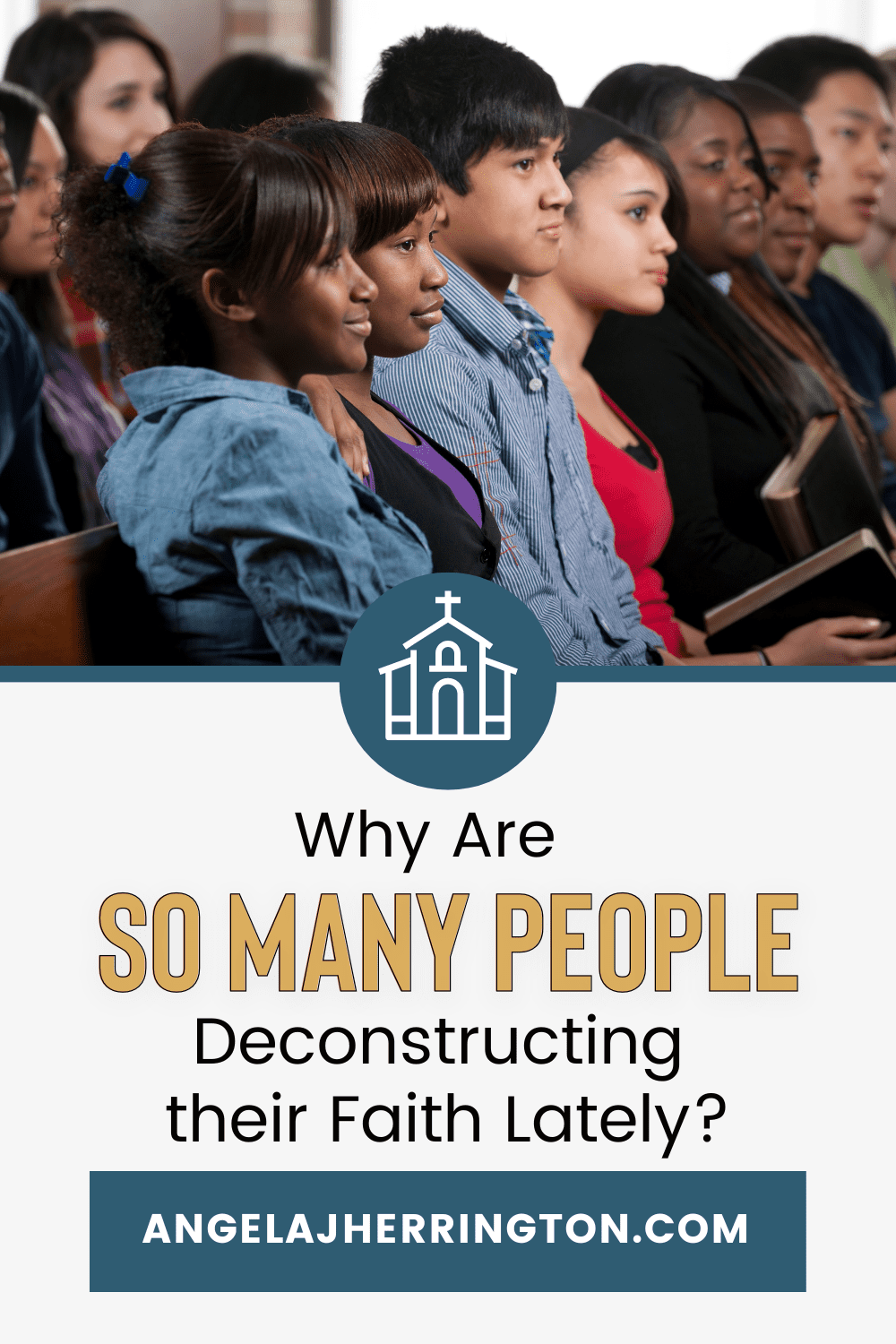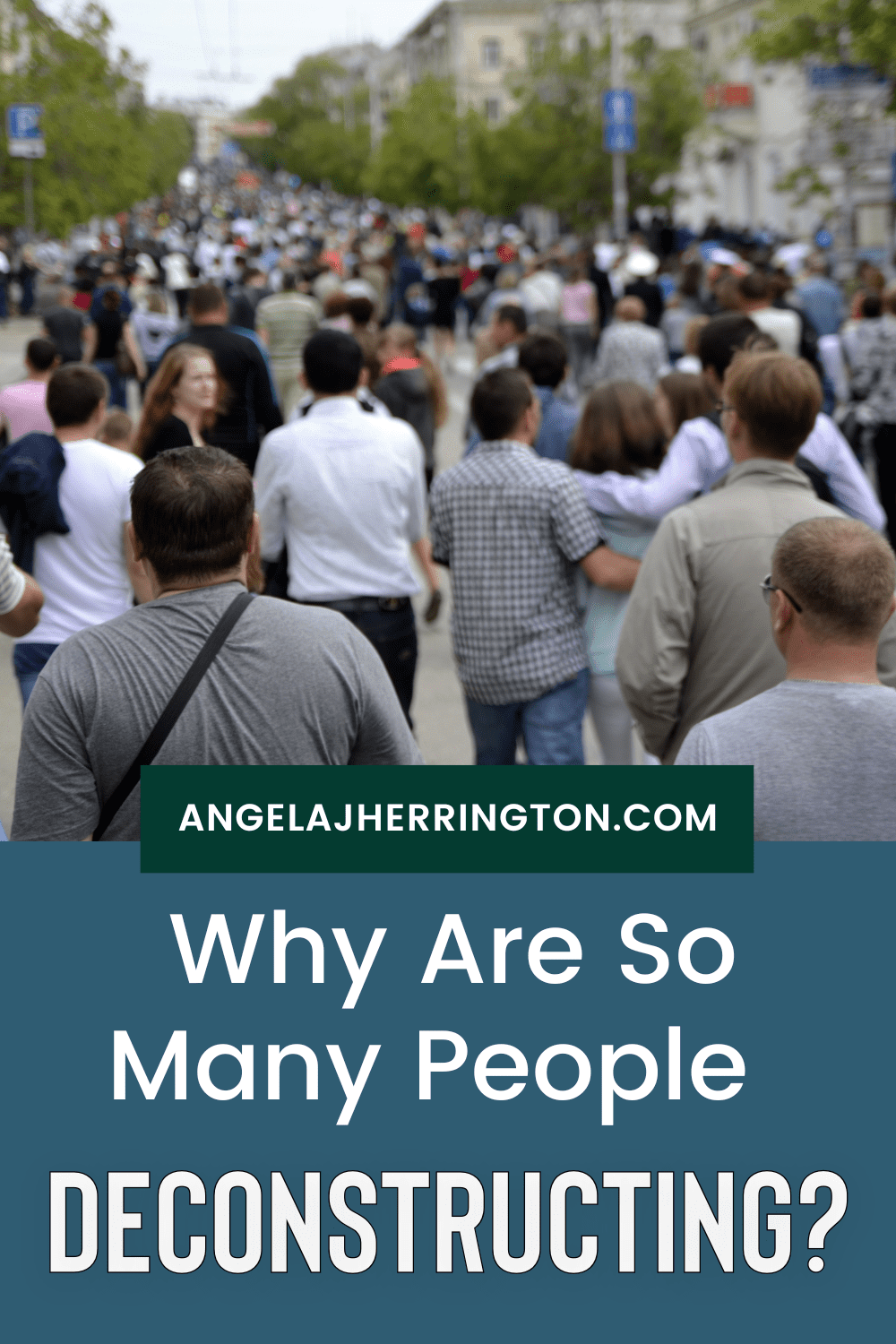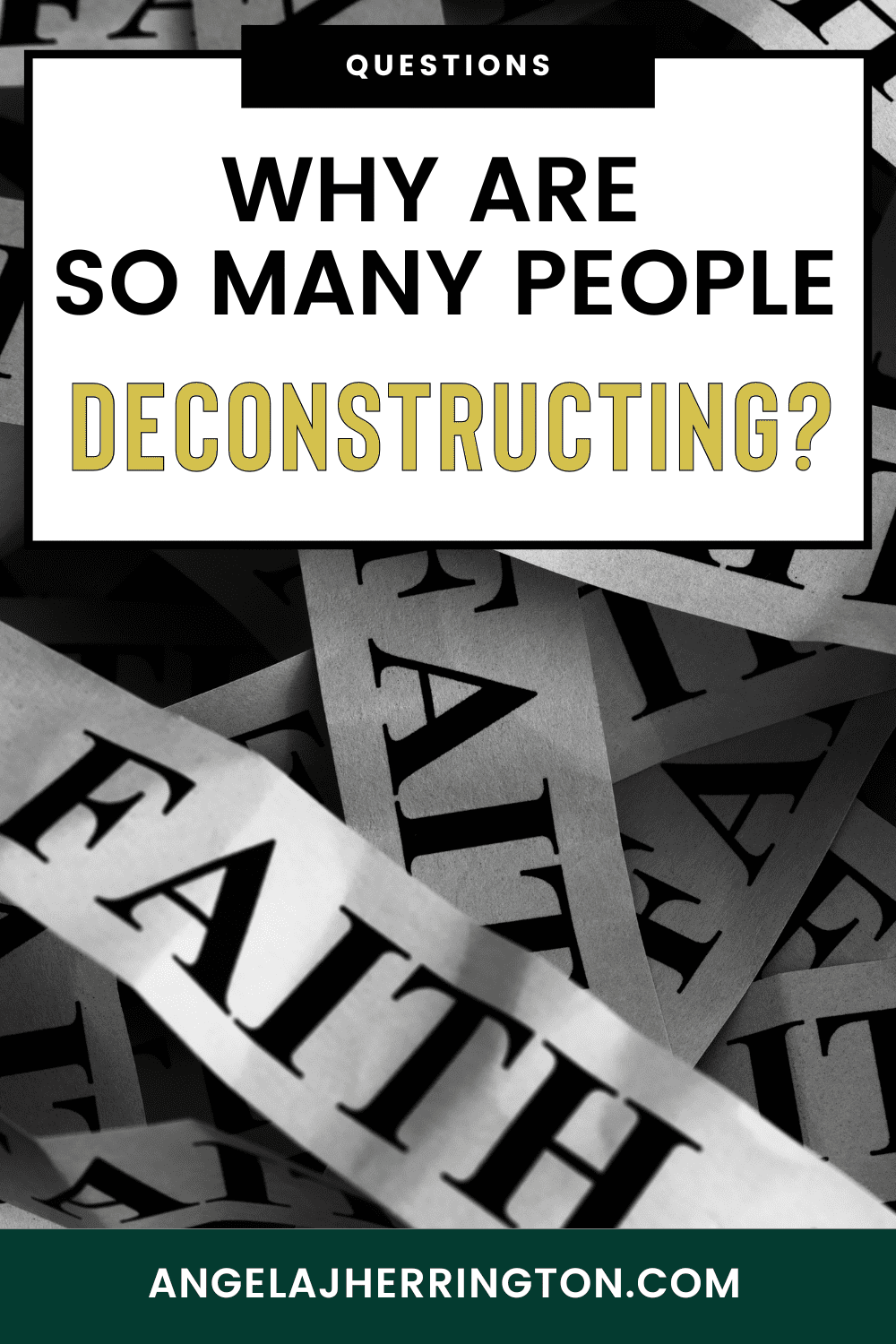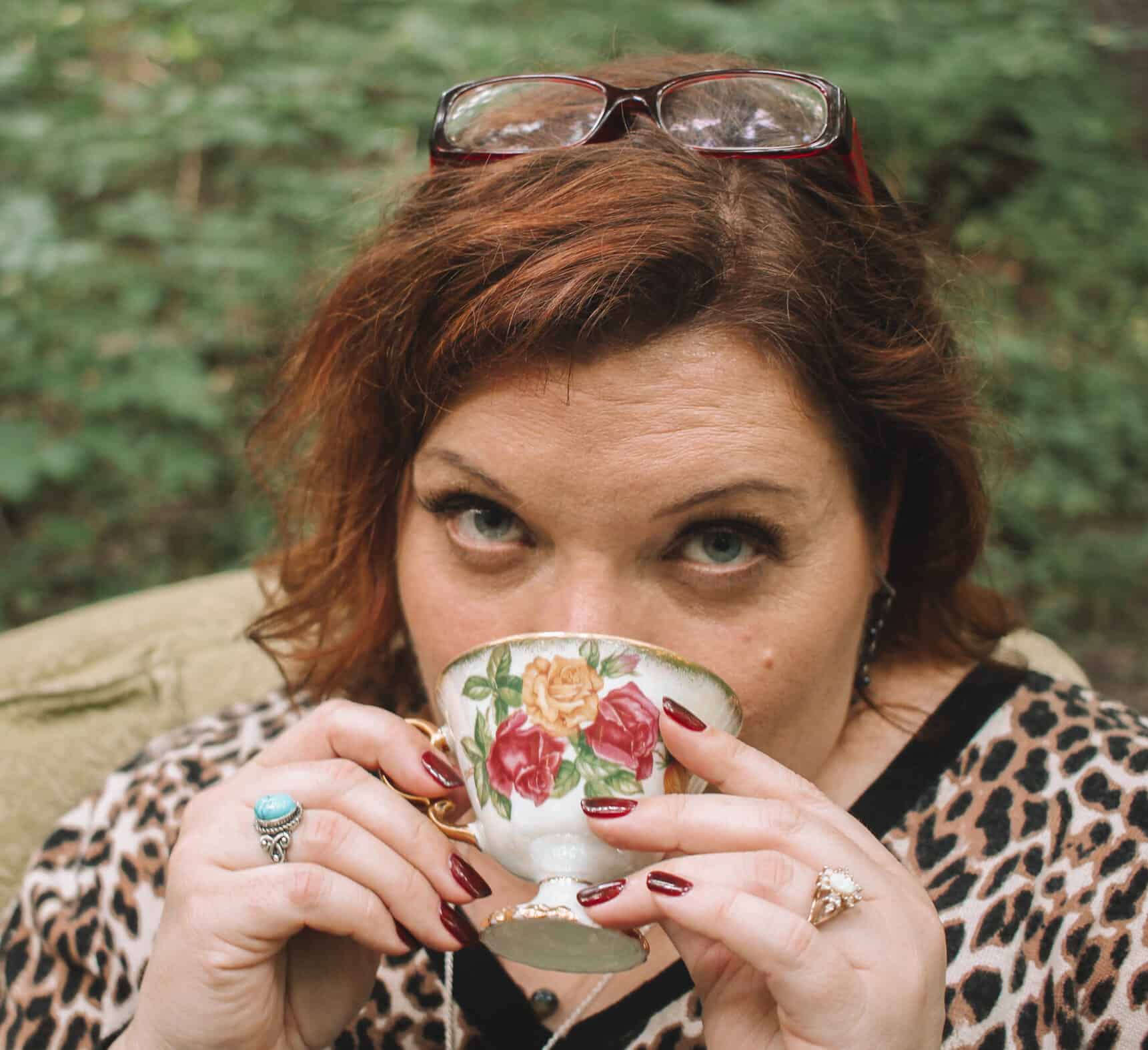 Hey there friend! I'm Angela J Herrington, MA, LSCC and I'm a Faith Deconstruction coach who provides soul care for people who are untangling from toxic religion.
As a certified life coach and seminary-trained online pastor, I have a lot of experience helping people connect with God. But this is also a very personal journey for me.
For the last decade, I've been on my own journey to break free from learned smallness and step into wild sacred holy womanhood. Long story short, after finding faith in my early 30's I began to realize that what I was hearing from the church about women didn't always line up with what God was telling me. I loved God but realized the church was teaching some really toxic stuff.
So this Enneagram 8, first born, Gen Xer started deconstructing. I questioned and challenged everything I thought I knew about faith, gender, and myself.
It was messy and took a lot of work to sort it out. Therapy. Coaching. Bodywork. Spiritual healing. Conferences and retreats. And even a couple of college degrees.
You name it…I tried it.
But the thing that made the biggest difference was the presence and support of wise people who helped me up when I didn't know where else to turn.
That's why in September 2021, I created and hosted The Deconstructing Faith Summit. I gathered 20 phenomenal deconstruction experts to share their expertise and hosted over 1100 attendees in the week-long virtual event. Those who attended realized they weren't alone, had a safe space to ask questions, learned dozens of strategies to help them deconstruct, and released tons of pent-up emotions they didn't even know they were carrying around.
We laughed, we cried, and we danced, but the best part was…We did it together.
It was AMAZING and it was just the beginning.
So now, I'm doubling down on my commitment to create an inclusive support system for people, like you, who are longing to get away from toxic religion and cultivate a nourishing spiritual life.
I WOULD BE HONORED TO BE YOUR GUIDE, BE BY YOUR SIDE THROUGH THIS ENTIRE PROGRAM, UNCOVER WHAT'S HOLDING YOU BACK, AND CO-CREATE A PLAN TO BREAK FREE.