I think I've always known poetry is sacred medicine that sometimes reaches places regular words just can't get to.
Poetry takes ordinary words and weaves them together with story and feeling in a way that has always spoken to my soul, even when I was little and didn't even know what a soul was. I find that the simplest phrases or incomplete sentences can be transformed into powerful expressions of our deepest emotions. Poetry is a particularly powerful ally when trying to understand somethings as enormously complex as our Creator.
That's why I'm SO excited to introduce a new series on this blog:
Poetry as Sacred Medicine
In this series I'll present an original poem to help you connect with your innermost feelings,  deep truths, and all things Divine. In addition to writing these poems, I'll also be recording a downloadable audio version that includes an invitation to meditation, breath work, or prayer. I highly recommend downloading the audio file, finding a quiet space where you can be alone with God, and setting your phone on airplane mode to stop any pesky notifications that may try to intrude.
Sometimes reading the words can have a completely different effect than hearing them so I encourage you to try both formats and see what moves you!
It's my prayer that these poems will be an ally as you wrestle with the hardest parts of faith, religion, the human experience, and the complexities of deconstructing your faith.
Today's poem speaks to the heartache and heaviness that surrounds us this season. I pray that this poem will comfort your weary heart like only sacred medicine can. 

I am so weary that taking the next breath is painful.
And exhaling this stale and heavy air somehow hurts even more than taking it in.
Holding my breath seems like the only option left these days. 
But that hurts too.
You see, worn down has become my new normal.
And days like this make it hard to move, to rest, even just being wears. me. out.
I try to find the words to cry out for mercy because I know my soul aches for it.
But asking for help? That hurts too.
The losses have been tremendous and the grief is constantly present.
They've turned my once vibrant soul to a dingy, threadbare ghost of my past self.
I used to stand in front of the mirror, staring into my own eyes because I could see You.
But now all I see is emptiness, and that hurts too. 
I am not what I once was and I don't know that I want to go back.
Because there is freedom here, even in the shadow of this trauma.
I sit with my broken heart because I know she will not lie to me about who I am.
But sometimes, that honesty hurts too.
I hear a whisper say "It's OK. Perhaps hurting is enough for right now."
I nod as the wave of emotion comes again and I remember I'm not alone in this.
Because She cherishes my tears and breathes life into my soul, even as I question Her existence.
So I promise to find my way back to Her, even if that hurts too.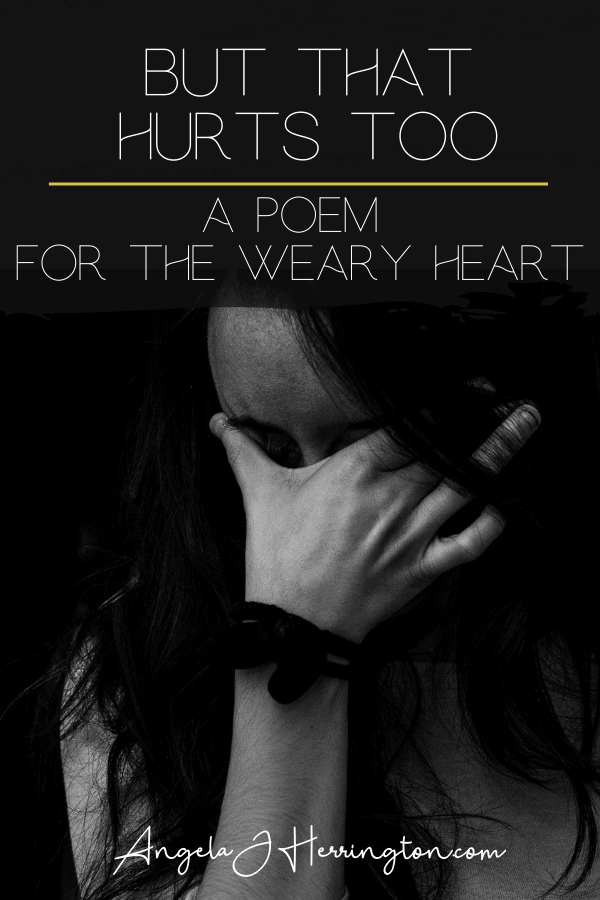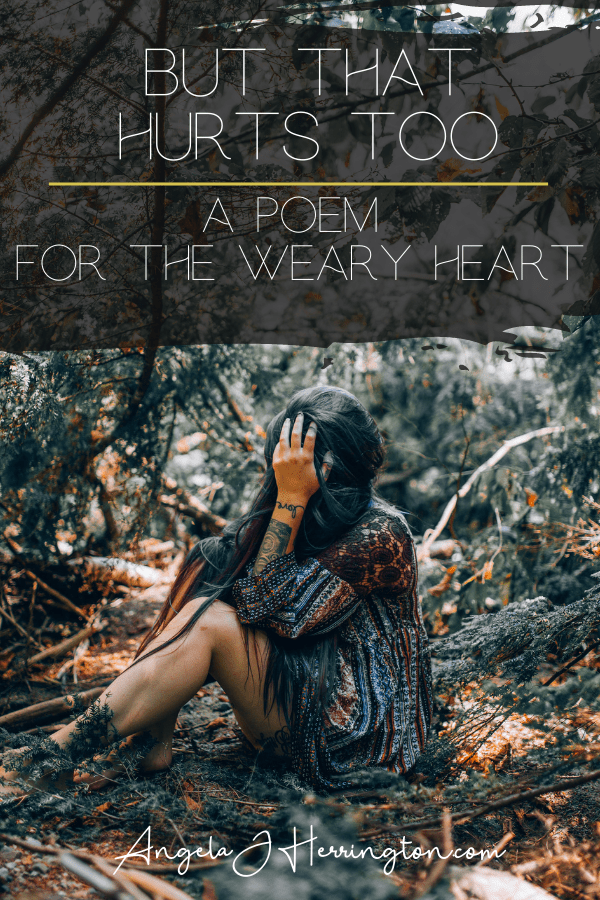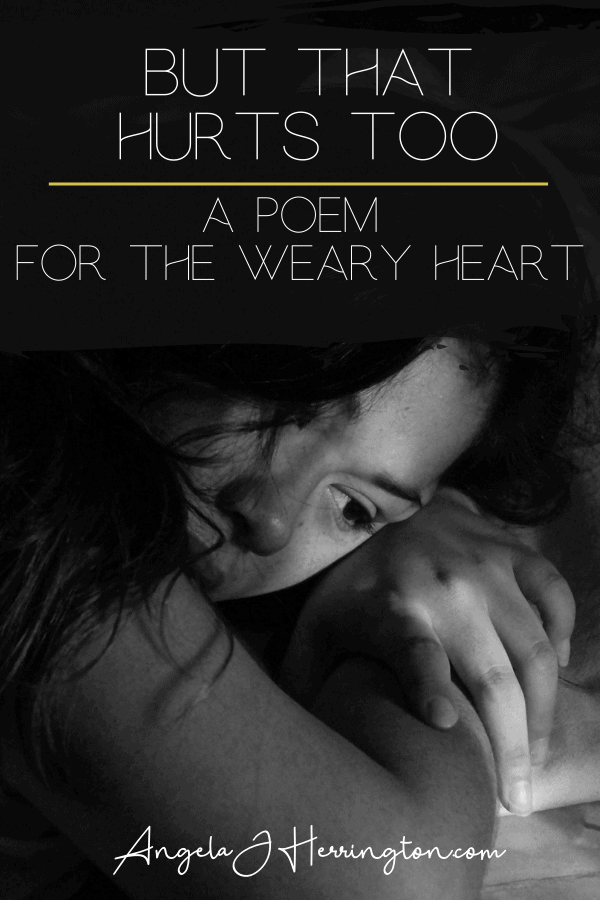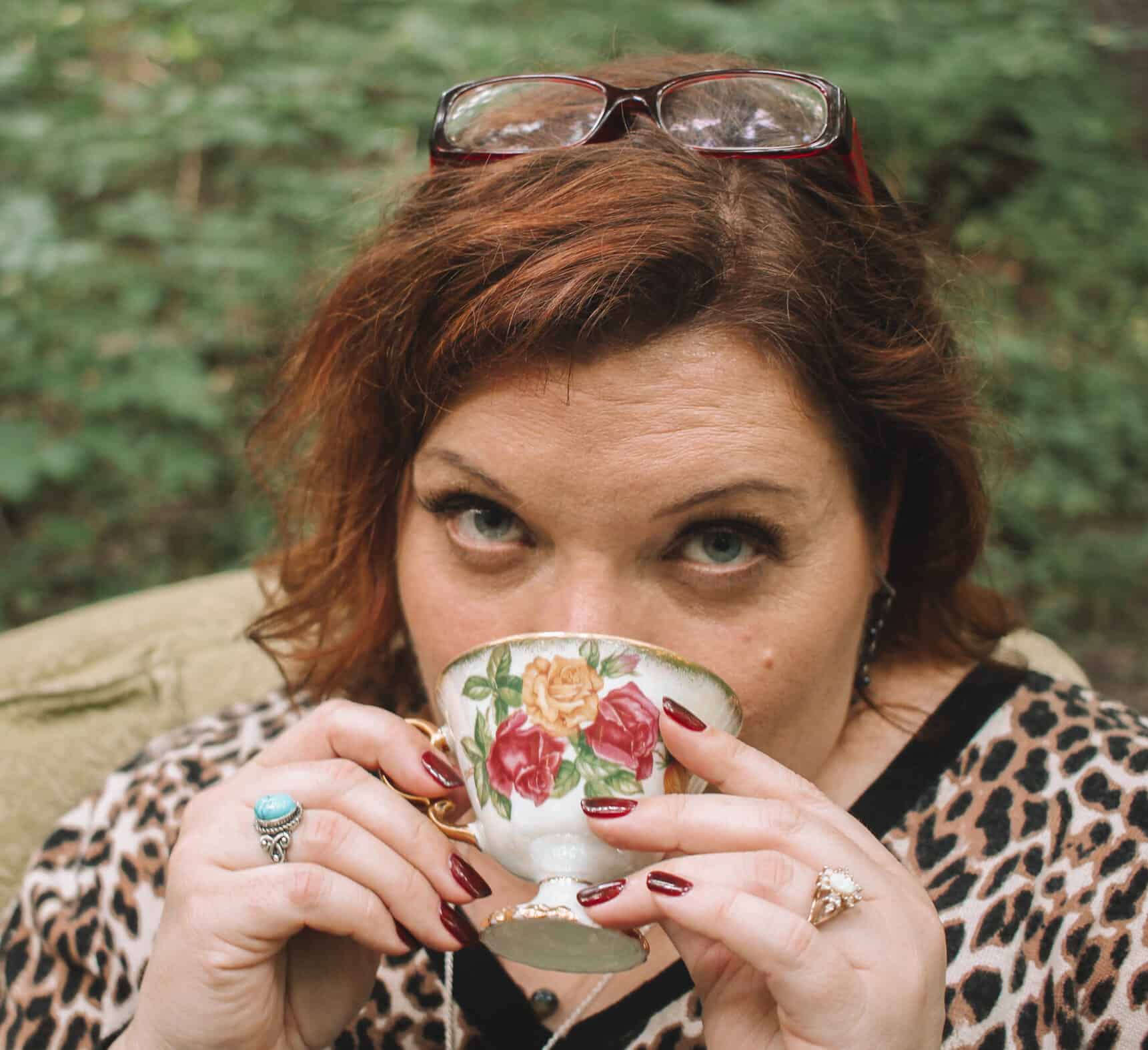 Hey there friend! I'm Angela J Herrington, MA, LSCC and I'm a Faith Deconstruction coach who provides soul care for people who are untangling from toxic religion.
As a certified life coach and seminary-trained online pastor, I have a lot of experience helping people connect with God. But this is also a very personal journey for me.
For the last decade, I've been on my own journey to break free from learned smallness and step into wild sacred holy womanhood. Long story short, after finding faith in my early 30's I began to realize that what I was hearing from the church about women didn't always line up with what God was telling me. I loved God but realized the church was teaching some really toxic stuff.
So this Enneagram 8, first born, Gen Xer started deconstructing. I questioned and challenged everything I thought I knew about faith, gender, and myself.
It was messy and took a lot of work to sort it out. Therapy. Coaching. Bodywork. Spiritual healing. Conferences and retreats. And even a couple of college degrees.
You name it…I tried it.
But the thing that made the biggest difference was the presence and support of wise people who helped me up when I didn't know where else to turn.
That's why in September 2021, I created and hosted The Deconstructing Faith Summit. I gathered 20 phenomenal deconstruction experts to share their expertise and hosted over 1100 attendees in the week-long virtual event. Those who attended realized they weren't alone, had a safe space to ask questions, learned dozens of strategies to help them deconstruct, and released tons of pent-up emotions they didn't even know they were carrying around.
We laughed, we cried, and we danced, but the best part was…We did it together.
It was AMAZING and it was just the beginning.
So now, I'm doubling down on my commitment to create an inclusive support system for people, like you, who are longing to get away from toxic religion and cultivate a nourishing spiritual life.
I WOULD BE HONORED TO BE YOUR GUIDE, BE BY YOUR SIDE THROUGH THIS ENTIRE PROGRAM, UNCOVER WHAT'S HOLDING YOU BACK, AND CO-CREATE A PLAN TO BREAK FREE.