Let's be honest: whether you're just beginning to deconstructing your faith or you've been on this path for a while, it sometimes feels lonely, isolating, and just plain exhausting. You wonder whether dismantling toxic religion is really worth it. I know the feeling, my friend. I've been there, too. That's why I'm hosting the Deconstructing Faith Summit, a free, five-day virtual event. We'll gather each day to hear from inspiring speakers on a variety of topics to help you make sense of deconstructing your faith. (More about those speakers in a bit!)
Here are the top 10 reasons you should attend the Deconstructing Faith Summit:
You want to…
…surround yourself with other people who are challenging old beliefs.
You might feel like you're in this alone, but you aren't. There are many of us wrestling with doubts and questions when it comes to faith.
...recover from #churchhurt and toxic church culture.
Trauma, abuse, and toxicity are, unfortunately, rampant in the church. There's a good chance that you or someone you know has experienced this in the context of their faith community.
...find out who God really is, was, and always will be.
What if there's so much more to God than we've been told? Can you imagine what it would be like to explore their expansiveness? This is a safe space to do exactly that.
 ...get honest answers about the Bible and the church.
Our speakers aren't here to give you rote, polished answers to hard questions. They're showing up with a refreshing level of honesty and vulnerability to answer your questions.
…learn from people who have been where you are now.
We've selected speakers who know how difficult–and ultimately rewarding–the deconstruction process can be. We're here to walk alongside you when it feels overwhelming.
…feel welcome and safe just as you are. You can show up as your full self here. No pretending required. (And you can even wear your pjs if you want!)
Or you are…
…longing to ask messy questions about faith, without being judged.
Sometimes we are afraid to ask questions about our faith for fear of judgment. Your questions are welcome here, friend.

…hungry for the unfiltered truth about God, the church, and Christianity.
This isn't your typical Sunday School class or midweek Bible study. We're talking about hard topics that the church typically sweeps under the rug or ignores.

…struggling to reconcile who you think God is and how the church acts.
Keeping up the "good Christian" facade is exhausting and trying to make sense of the tension between true Christianity and performative religion gets old. Deep breath. It can be different.
And, finally, you're just plain fed up with the racism, misogyny, homophobia, cries of "censorship," and constant defensiveness from the 'All Lives Matter' crew.
Enough said.
If any (or all) of these reasons resonate with you, I would love to have you join us September 12-17. Grab your FREE ticket to the Deconstructing Faith Summit here.
Now, about those speakers! I am SO excited to introduce you to each of these wonderful people and share their session titles with you.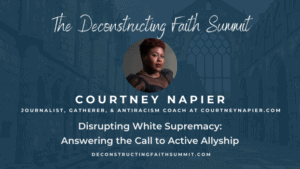 Courtney Napier: "The Legacy of White Allyship in the Church"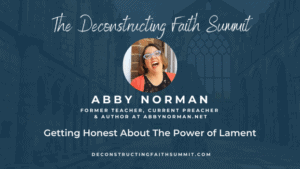 Abby Norman–"Getting Honest About The Power of Lament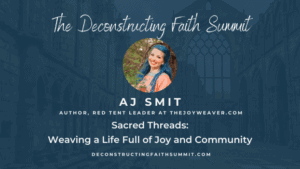 Aj Smit: Sacred Threads: "Weaving a Life Full of Joy and Community"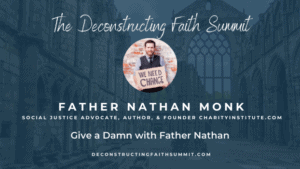 Father Nathan Monk: "Give a Damn with Father Nathan"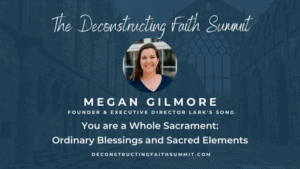 Megan Gilmore: "You are a Whole Sacrament: Ordinary Blessings and Sacred Elements"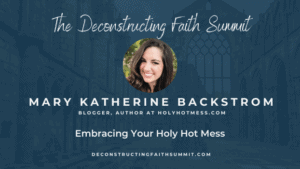 Mary Katherine Backstrom: "Embrace Your Holy Hot Mess"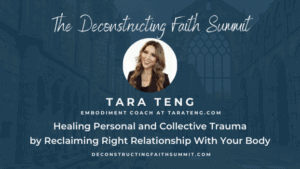 Tara Teng: "Healing Personal and Collective Trauma by Reclaiming Right Relationship With Your Body"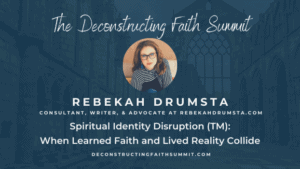 Rebekah Drumsta: "Spiritual Identity Disruption: When Learned Faith and Lived Reality Collide"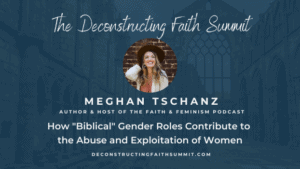 Meghan Tschanz: "'Biblical' Gender Roles Contribute to the Abuse and Exploitation of Women"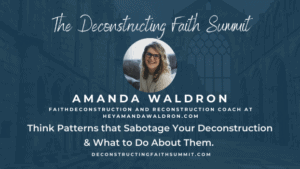 Amanda Waldron: "Thinking Patterns That Sabotage Your Deconstruction and What to Do About Them"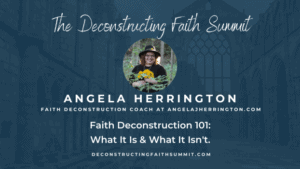 Angela Herrington: "Deconstructing Faith 101:What It Is, What It Isn't"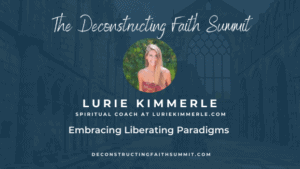 Lurie Kimmerele: "Embracing Liberating Paradigms"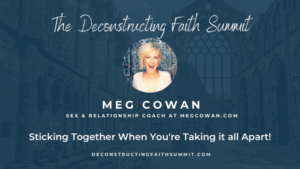 Meg Cowan: "Sticking Together When You're Taking It All Apart!"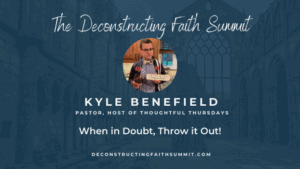 Kyle Benefield: "When in Doubt, Throw it Out"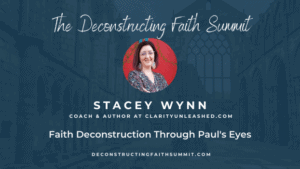 Stacey Wynn: "Faith Deconstruction Through Paul's Eyes"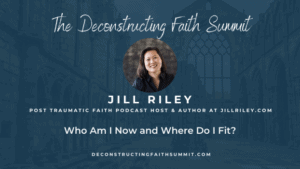 Jill Riley: "Who Am I Now and Where Do I Fit?"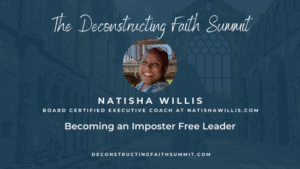 Natisha Willis: "Imposter Freedom & Faith"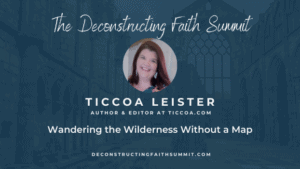 Ticcoa Leister: "Wandering the Wilderness Without a Map"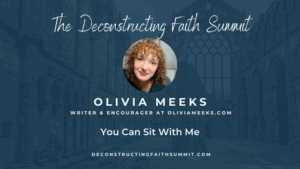 Olivia Meeks: "You Can Sit With Me"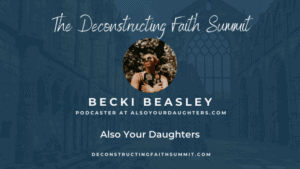 Becki Beasly: "Also Your Daughters"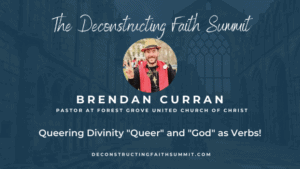 Brendan Curran-"Queering God: 'Queer' and 'God' As Verbs"
Can you believe this awesome line-up?
 Every one of these speakers brings a unique perspective to the deconstructing faith space. They've been where you are; they're still on the path. Come join us for deep, encouraging conversations at the Deconstructing Faith Summit. Don't forget to grab your seat here!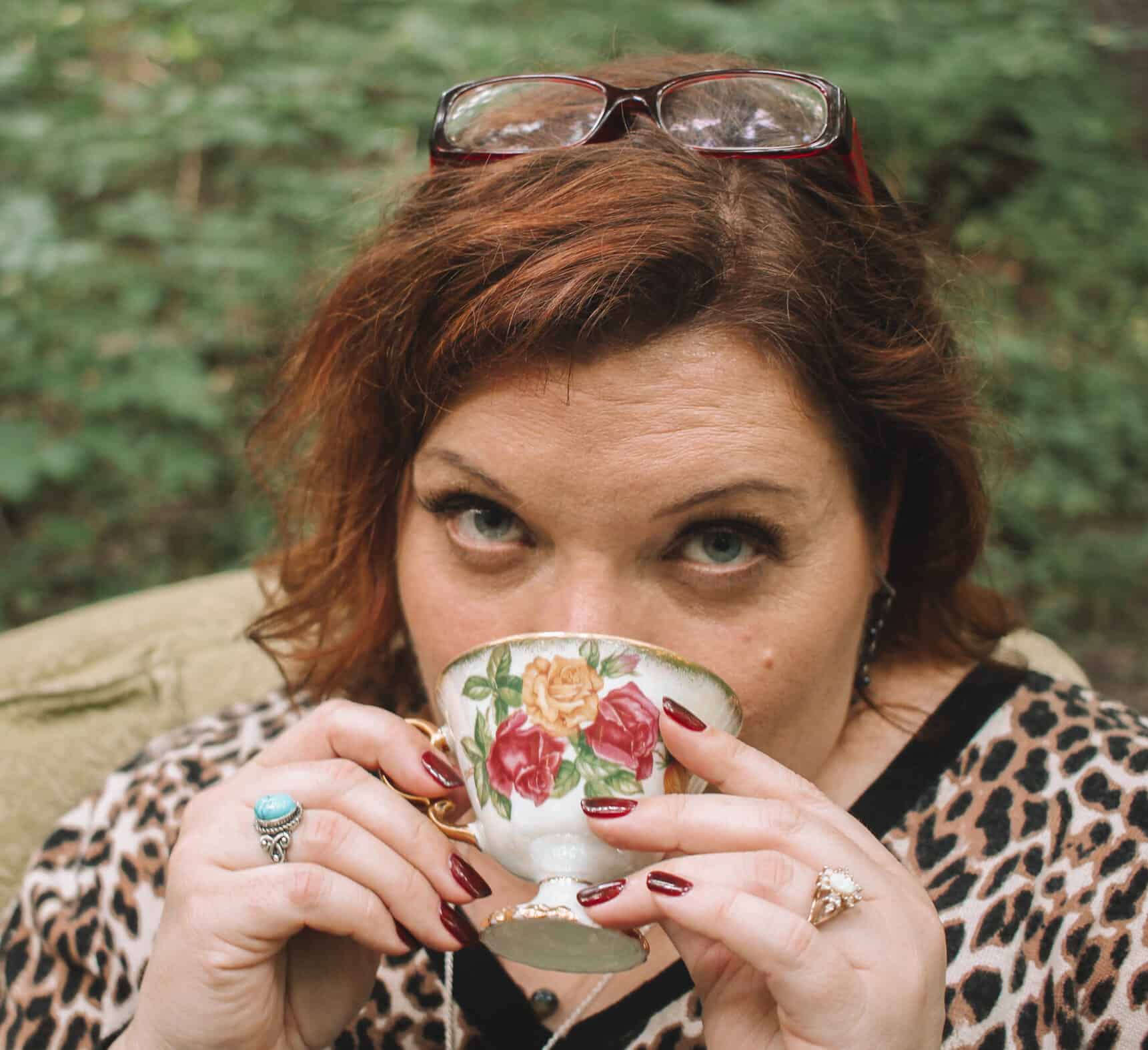 Hey there friend! I'm Angela J Herrington, MA, LSCC and I'm a Faith Deconstruction coach who provides soul care for people who are untangling from toxic religion.
As a certified life coach and seminary-trained online pastor, I have a lot of experience helping people connect with God. But this is also a very personal journey for me.
For the last decade, I've been on my own journey to break free from learned smallness and step into wild sacred holy womanhood. Long story short, after finding faith in my early 30's I began to realize that what I was hearing from the church about women didn't always line up with what God was telling me. I loved God but realized the church was teaching some really toxic stuff.
So this Enneagram 8, first born, Gen Xer started deconstructing. I questioned and challenged everything I thought I knew about faith, gender, and myself.
It was messy and took a lot of work to sort it out. Therapy. Coaching. Bodywork. Spiritual healing. Conferences and retreats. And even a couple of college degrees.
You name it…I tried it.
But the thing that made the biggest difference was the presence and support of wise people who helped me up when I didn't know where else to turn.
That's why in September 2021, I created and hosted The Deconstructing Faith Summit. I gathered 20 phenomenal deconstruction experts to share their expertise and hosted over 1100 attendees in the week-long virtual event. Those who attended realized they weren't alone, had a safe space to ask questions, learned dozens of strategies to help them deconstruct, and released tons of pent-up emotions they didn't even know they were carrying around.
We laughed, we cried, and we danced, but the best part was…We did it together.
It was AMAZING and it was just the beginning.
So now, I'm doubling down on my commitment to create an inclusive support system for people, like you, who are longing to get away from toxic religion and cultivate a nourishing spiritual life.
I WOULD BE HONORED TO BE YOUR GUIDE, BE BY YOUR SIDE THROUGH THIS ENTIRE PROGRAM, UNCOVER WHAT'S HOLDING YOU BACK, AND CO-CREATE A PLAN TO BREAK FREE.