I have a book to share with you that I think will inspire, challenge, and encourage you.
A few years ago I shared how impactful Tara Beth Leach's book Emboldened was for me as I wrestled with how my call to ministry was going to play out. I loved it so much I quickly added it to my list of books every Christian leader should read.
So I was THRILLED to have an opportunity to be on the launch team for her new book, Radiant Church: Restoring The Credibility of Our Witness.  Well, I just finished it. AND I am excited to share a very honest review and some of my favorite quotes from the book. 
For the sake of full disclosure I purchased my own copy of the book at full price. Then, I received a second one at no charge to give to a friend. Other than the free book I passed on, I received no compensation for my time or this review unless you use my referral link to buy it from Amazon…. 🙂
First, it's important to note this book is written by a church insider, to those who are still within the church.
Which is good for those who are still actively engaged with their church! But, it may be a challenging read if you're aren't.  Radiant Church is jam packed with Biblical truths and insights I think all of you will appreciate, but because I know many of my readers are in various stages of deconstructing I wanted to give you a heads up 🙂 
Tara Beth Leach writes in a straightforward, yet intimate and inviting manner. She makes Radiant Church feel like a conversation between friends instead of a stuffy lecture about all the things we aren't doing well. (Refreshing, right?)
It's a fairly quick read and I highlighted quite a few nuggets that I'll share with you below. 
The key point of Radiant Church is that the U.S. church is thinning out due to decades of heavy handed, non-relational tactics.
Tactics that make Christianity look more like dodging lightning bolts and eternal damnation than cultivating an intimate relationship with our Creator. I 100% agree, but you already know that because we have talked about this A LOT on this blog and my social media.
What's refreshing about Radiant Church is that it does a beautiful job of stating the changes that need to happen. It connects them with solid biblical examples (that are not twisted by patriarchy and toxic religion), and offers real life examples of when this is done well. And when it isn't. 
There's just the right amount of personal storytelling and sharing others' experiences. It never feels like the goal of the book was to create the Tara Beth show.
This book really is about the church and how she was always supposed to be the Radiant bride of Christ. The bride that lovingly drew people towards God, not the abusive religion of the #ChruchToo era.
Because I know many of you are deconstructing, I reached out to the author to ask what she would love to say to those who believe in God, but have left the church due to the shortcomings she lays out in her book.
Here's her response:
"I have struggled with the credibility of the witness for years, but believe in Jesus and I believe Jesus and I believe that Jesus meant his words when he said, "The gates of hell will not prevail." I also believe in Jesus' radiant vision for the church in the Sermon on the Mount. With that, there's much to lament. We aren't living up to the vision Jesus has given us, and we've wounded our brothers and sisters. Finding a like-minded group of people who love Jesus, believe Jesus, and have been hurt by the church could be a healing approach for anyone struggling with the church."
Again, I agree 100%!
So if you're curious about what it might be like to bring our churches into a new chapter of Radiance that makes the presence of God undeniable, I highly recommend grabbing a copy of Radiant Church!
If your relationship status with the church has recently changed to "It's complicated" I would still give it a try. But don't feel bad if it's too soon to dive back into those painful places. It's a great book, but that doesn't mean it has to be a great book for you in this moment. ❤️
There's plenty of space and time for you to heal and pick it back up later if it feels more resonant.
Whenever I do these reviews I promise to be 100% honest with you about anything that bothers me. 
For this book, there's only one thing that fits into that category. On pages 37-38 the author uses a 'joke' about a man getting ready to jump off a bridge to illustrate the way churches create an us versus them culture. 
I really, really, really wish it wasn't in there. I'm going to suggest skipping those 2 pages and picking it back up on page 39.
Her point about division is valid, but there are so many other ways this could have been addressed. The word "joke" should never be used when talking about suicide. And helping people get it done should never, ever, ever be our punchline.
It may not seem like a big deal, but words matter and as a person who has faced a lifelong struggle with depression, anxiety, and suicidal thoughts – it hurt. 
Honestly, it made me question posting this review and encouraging people to read this book that is 99% amazing.
Obviously, (because you're reading this) I decided to proceed because I believe we all have biases to continue to uproot. Sometimes we say things that are hurtful just because they're not hurtful to us. (As if to prove my point, I just caught myself starting to type "we have blind spots" which of course, clearly shows an area where I need to do my own work.)
That lack of awareness is the privilege many of us are working so hard to come to terms with. None of us are 100% there yet. 
So I decided to share this book with you here!
I believe that Tara Beth Leach is a prophet that the church desperately needs right now. She has been, is, and will be a voice of deep wisdom. 
Here are a few quotes that moved me: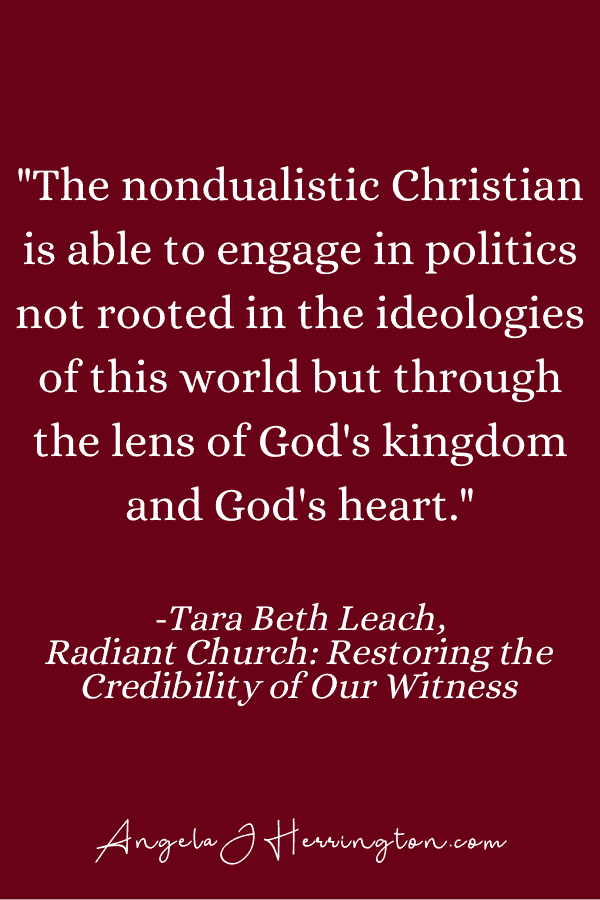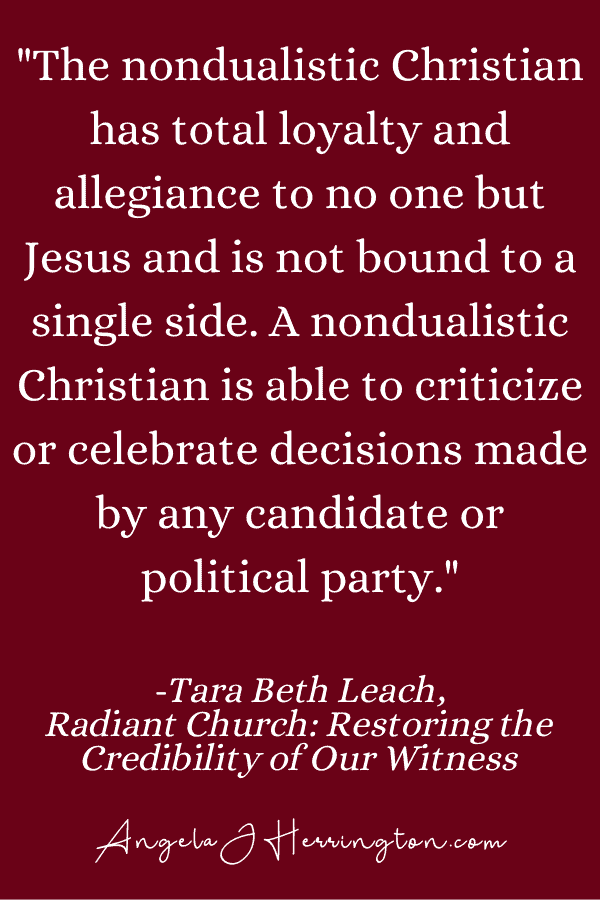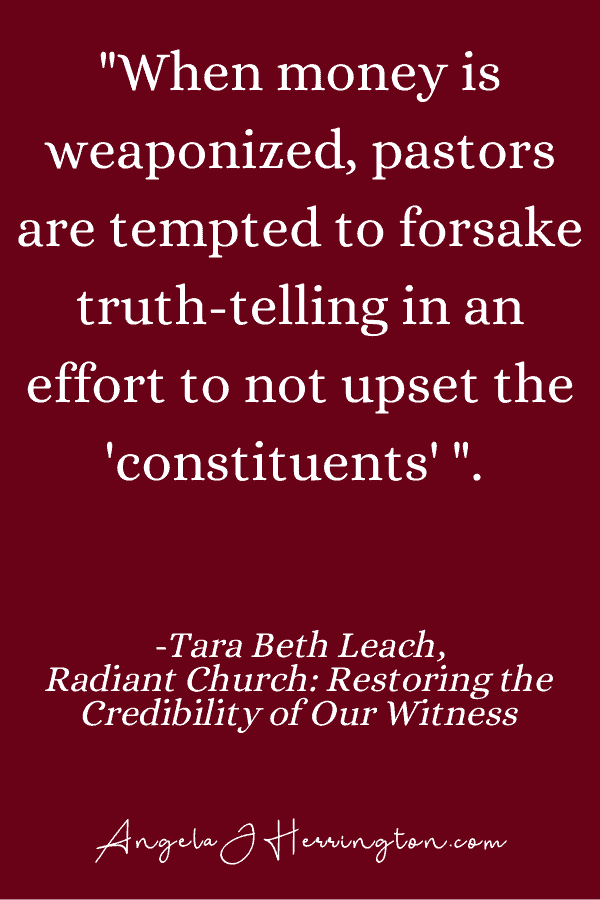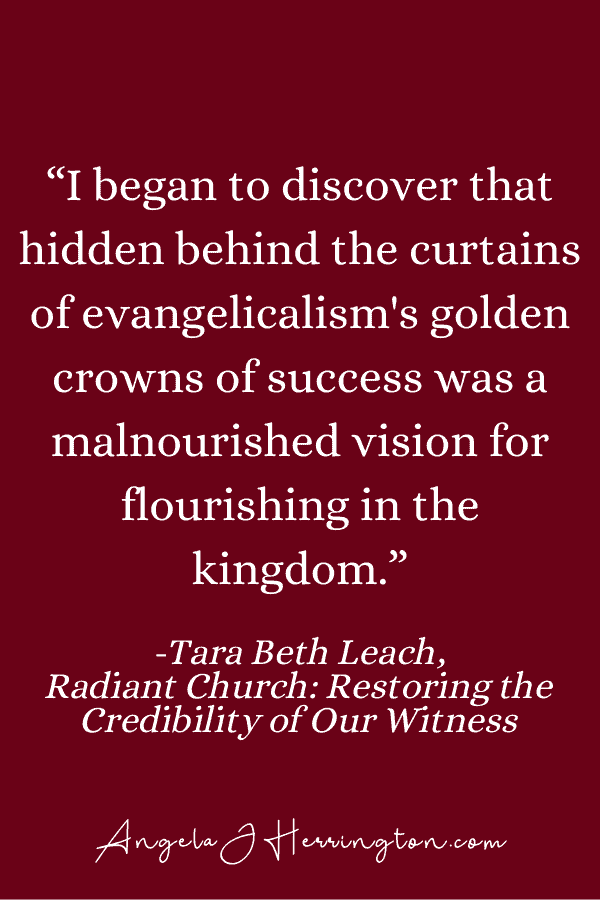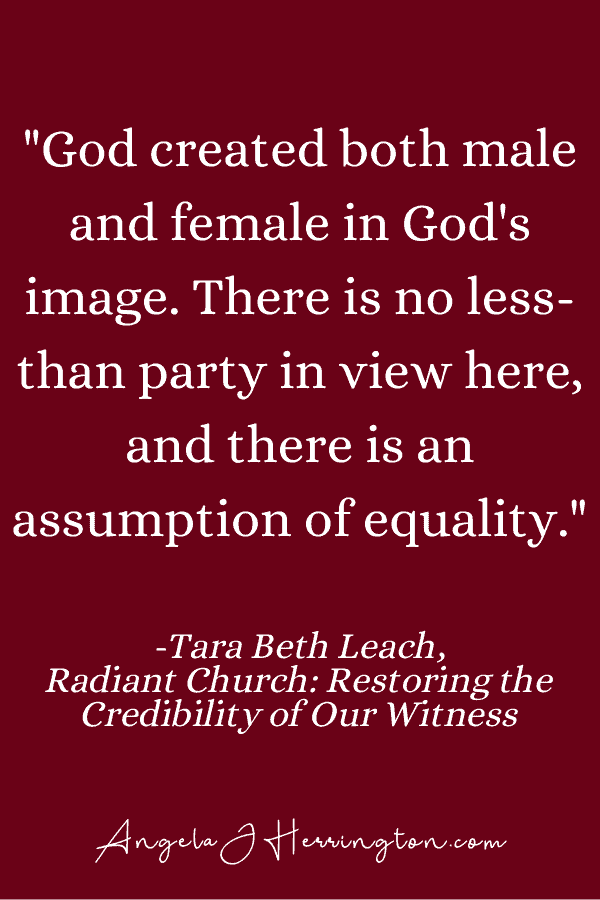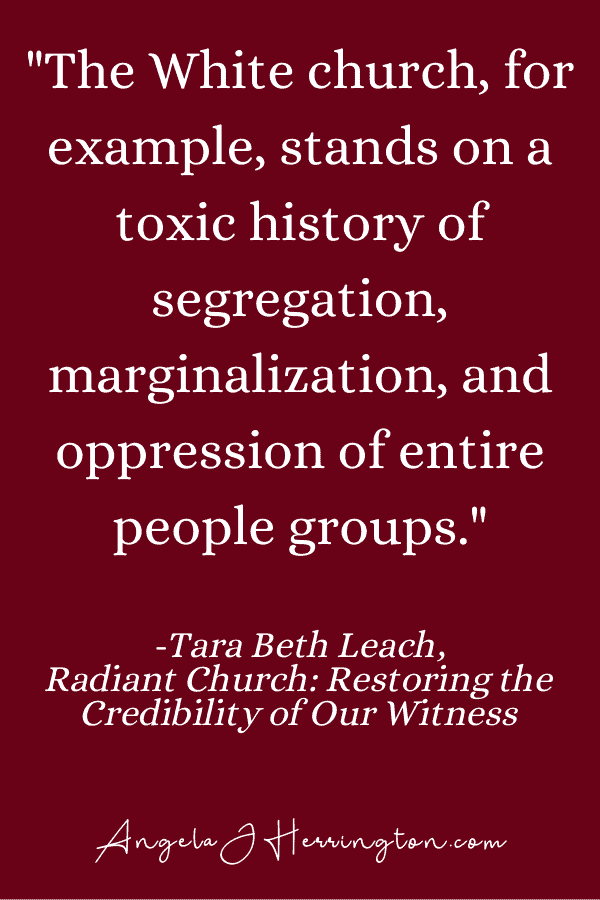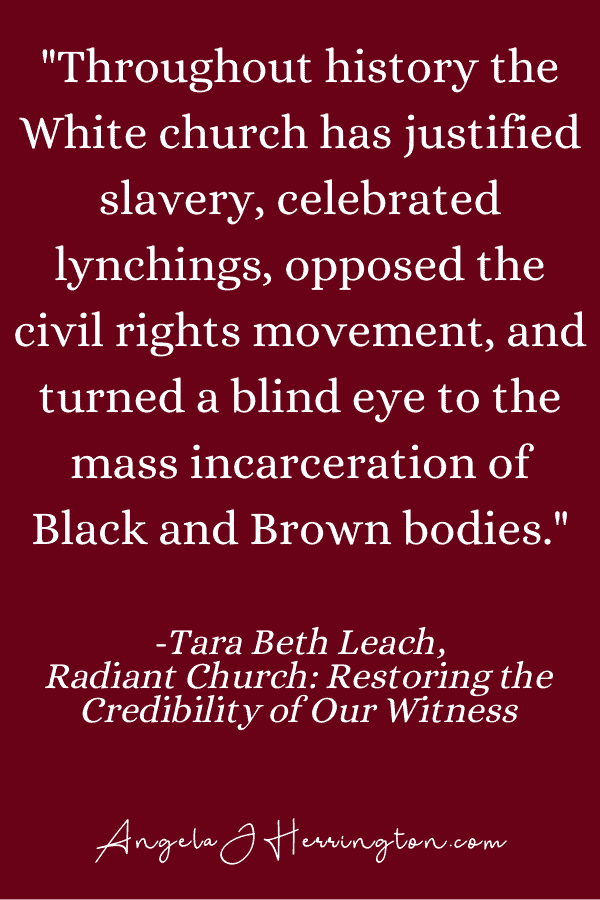 I look forward to more inspiration from her in the future. I hope this encourages you to grab a copy of Radiant Church and follow Tara Beth on all the socials!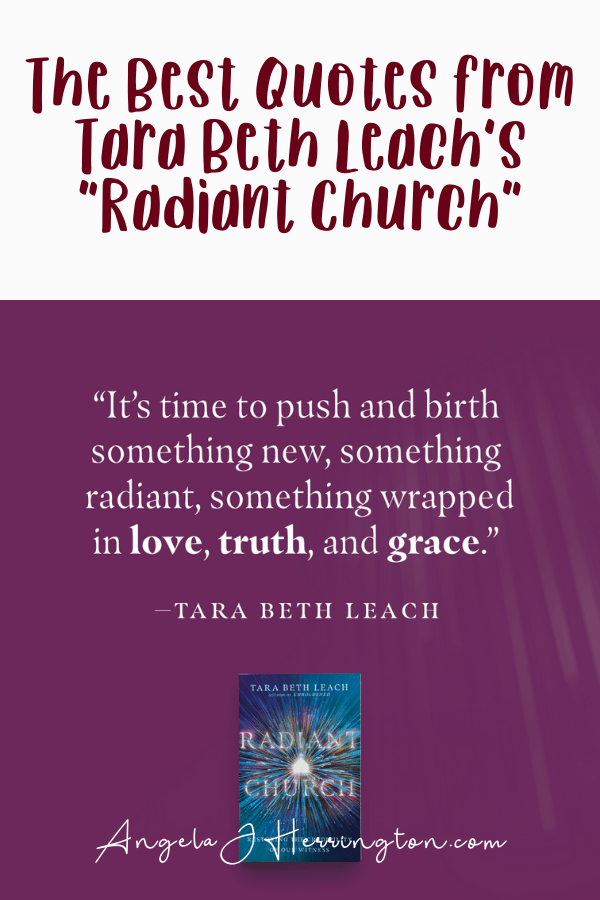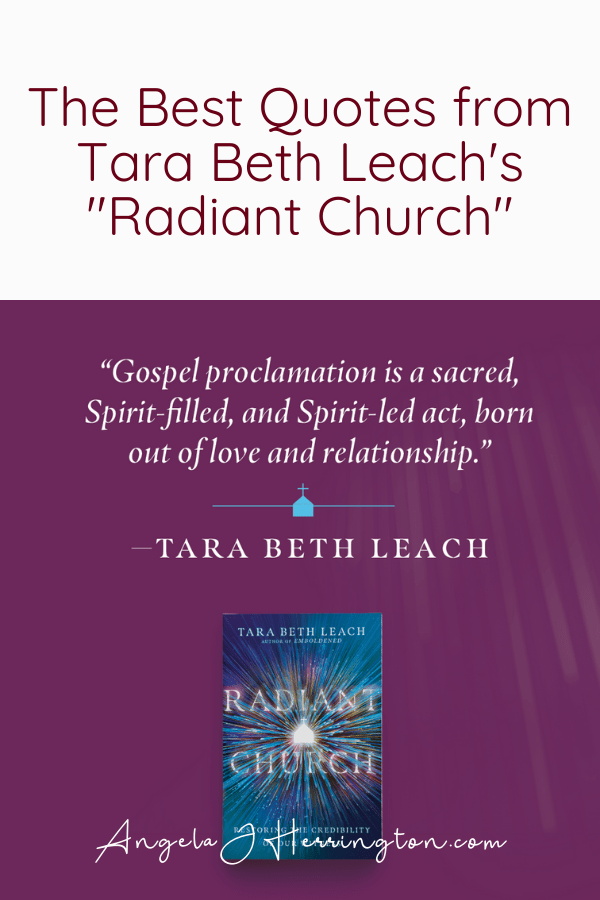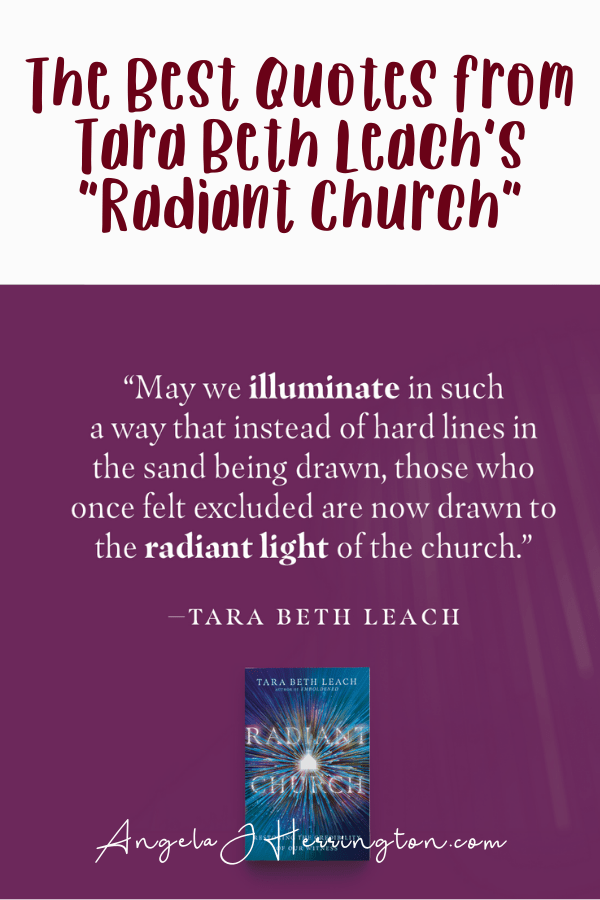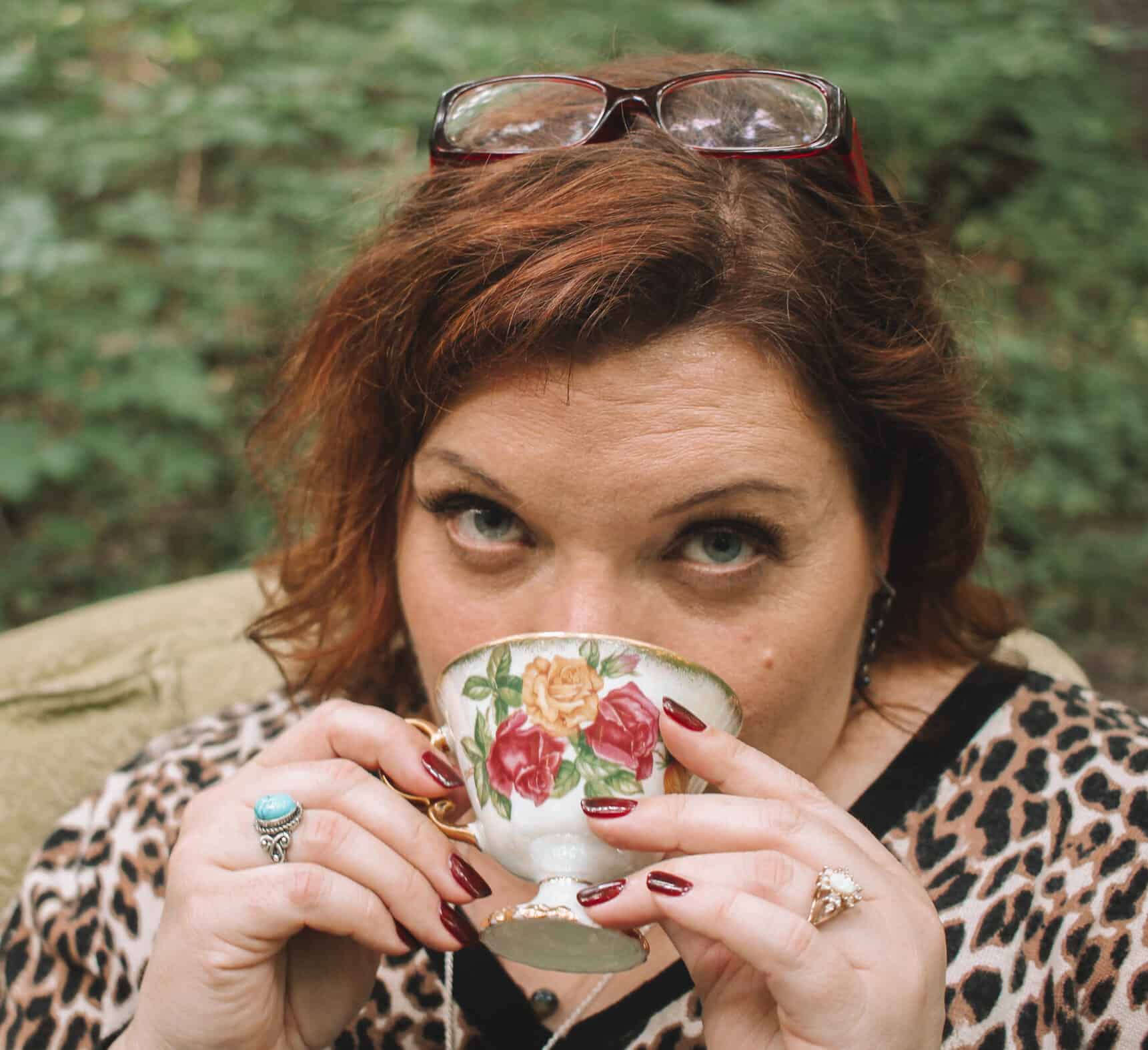 Angela J Herrington, MA, LSCC is a Faith Deconstruction Coach for Christian Women at AngelaJHerrington.com who empowers women to break free from toxic religious culture by deconstructing their faith and helps them recover from #churchhurt.
Angela is a spunky Gen Xer who creates sacred spaces for vulnerable exploration. Her specialty is helping Christian women untangle themselves from limiting beliefs, toxic religious culture, and all the ways the enemy tries to keep them small.  She holds a BA from Indiana Wesleyan and a Masters in Leadership from Wesley Seminary. Her graduate research project focused on leadership development and opportunities for Gen X women in the US church.
Angela and her unique online ministry were featured in Lyz Lenz's 2019 book God Land: Story of Faith, Loss, and Renewal in Middle America. She also has been published in Hope for Women and HOPE is Now magazines.
Angela is also a Lark's Song Certified Life Coach who reaches hundreds of thousands of women in 40+ countries each month on Facebook, IG, Twitter, Pinterest, and two blogs. She is Director of Communications for Wesleyan Holiness Women Clergy, a women-led organization dedicated to engaging, empowering, and equipping women to lead in the church.
Angela is also a wife, mom to 6, and proud resident of Marion, Indiana with her family when they're not traveling the US in their RV.