Hey friend,
It's been a while since we've (virtually) talked, hasn't it? Like much of the US, I've been laying low and trying to sort out this strange, mixed-up season we are in. After traveling to an amazing women clergy conference in May, I came home sick with a probable case of COVID-19 and had to quarantine in my room for 3 weeks. It was like being grounded….except I couldn't even go to school!
That season really challenged me. I found myself trying to deal with the stress of the pandemic without my typical coping mechanisms. My hubby and kids had to stay away from me, and I only left the house for doctor appointments. There was no way to go for walks or long drives. I couldn't play games or even hug my family for weeks.
Between fevers and coughing spells, I had a lot of wrestling sessions with God. Old fears and scarcity-based anxieties were coming up hard and fast. There were a lot of confessions, ashes and sackcloths, and snotty tears.
But through it, I learned that God is in it all. And I don't mean that in a fake, head-in-the-sand, "It's all good" kind of way. God is in the moments of suffering just as much as the moments of prosperity. I clearly heard Him say over and over again "I've got you and I've got your family."
He said it until I finally let go of those last few threads of wanting control, holding back the emotions, and being 'strong enough' to make everything work out in the end. I felt more powerless than ever, and yet I still had lots of choices to make and great privilege that I had taken for granted. Yes, God was fully present and working within me even through fear and pain.
And it has changed me. I'd like to say I recovered with fire in my belly, but in truth I was fragile and shaky. I needed a lot of self love and kindness from the people around me. Then, I received a TON of racist, hateful, and threatening backlash around what I shared regarding Black Lives Matter. It honestly shocked me, and I grieved over the community I had built and my lack of an anti-racist stance. Name calling, gas lighting, centering, and even threats of violence came at me on the regular. I had never experienced that before, and it kicked my butt for a while. Then, a fan called me out (privately) and said "Why are you letting people who are only there to spread hate rule the conversation?"
She was right.
It wasn't OK for them to make this online community an unsafe place or to run over the people who were willing to learn and collaborate. So I pushed back, blocked several hundred people, and doubled down on supporting BIPOC. I did my best to create a safe space for all people who are willing to listen and speak respectfully. It was brutal, but again, God is in it all. And I still have choice and privilege that others only dream of. Once more, God said, "I've got you and your family. Keep going." 
So I did…and here we are. Still in COVID-19, and wading through the decades it will take to correct the racial inequalities in our country. I know that all of this has, at least in one way or another, impacted and change you, too. So, if you're like me, you find yourself asking, "What now? What do we do in the meantime?"
Well, to be honest, I'm still not 100% healed, or sure of what is coming next. But I have created a new routine with my clients and family and am still learning to care for myself kindly, gently, and abundantly. It's working. God is showing me how to show up for myself, as myself, and know that I am enough to do the hard work. He has helped me form new clarity in the purpose of this ministry, and last month my revenue hit a level I haven't hit in almost two years.
You may notice a shift in the words and ideas that show up on this page, my email, and on my social media platforms. Please know God is 100% at the center of it and always will be. It may seem unfamiliar because this new season of ministry won't include the scarcity-minded hustle and patriarchal oppression of the last 45 years.
I hope this new energy will be resonant with you and you'll be along for this ride,  but if you don't that's okay too. Go in peace, with my prayers and find your truth.
Sometimes it's packaged differently for each of us, but if God is at the center, your truth will always set you free.
With love,
Angela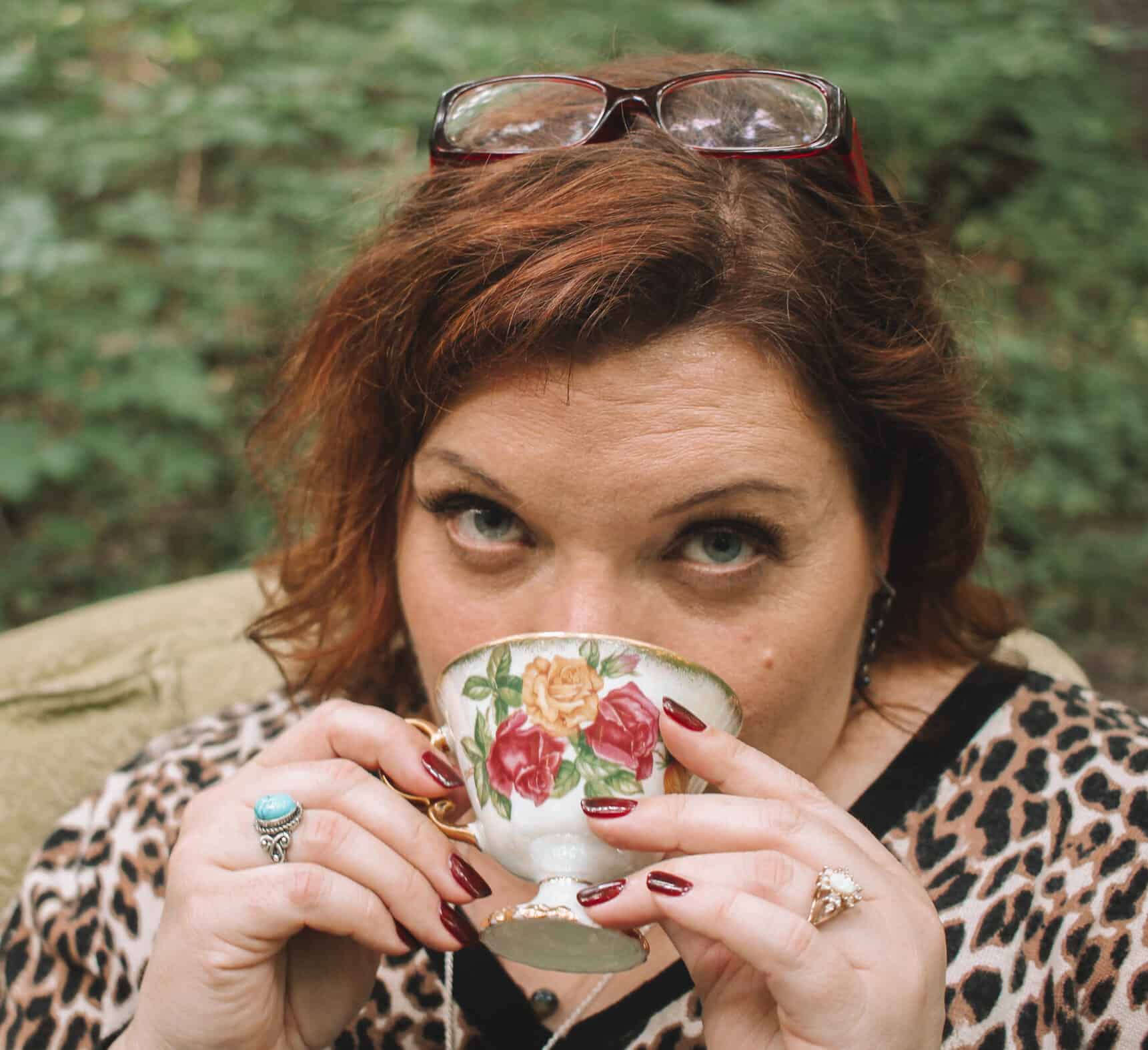 Hey there friend! I'm Angela J Herrington, MA, LSCC and I'm a Faith Deconstruction coach who provides soul care for people who are untangling from toxic religion.
As a certified life coach and seminary-trained online pastor, I have a lot of experience helping people connect with God. But this is also a very personal journey for me.
For the last decade, I've been on my own journey to break free from learned smallness and step into wild sacred holy womanhood. Long story short, after finding faith in my early 30's I began to realize that what I was hearing from the church about women didn't always line up with what God was telling me. I loved God but realized the church was teaching some really toxic stuff.
So this Enneagram 8, first born, Gen Xer started deconstructing. I questioned and challenged everything I thought I knew about faith, gender, and myself.
It was messy and took a lot of work to sort it out. Therapy. Coaching. Bodywork. Spiritual healing. Conferences and retreats. And even a couple of college degrees.
You name it…I tried it.
But the thing that made the biggest difference was the presence and support of wise people who helped me up when I didn't know where else to turn.
That's why in September 2021, I created and hosted The Deconstructing Faith Summit. I gathered 20 phenomenal deconstruction experts to share their expertise and hosted over 1100 attendees in the week-long virtual event. Those who attended realized they weren't alone, had a safe space to ask questions, learned dozens of strategies to help them deconstruct, and released tons of pent-up emotions they didn't even know they were carrying around.
We laughed, we cried, and we danced, but the best part was…We did it together.
It was AMAZING and it was just the beginning.
So now, I'm doubling down on my commitment to create an inclusive support system for people, like you, who are longing to get away from toxic religion and cultivate a nourishing spiritual life.
I WOULD BE HONORED TO BE YOUR GUIDE, BE BY YOUR SIDE THROUGH THIS ENTIRE PROGRAM, UNCOVER WHAT'S HOLDING YOU BACK, AND CO-CREATE A PLAN TO BREAK FREE.