People ask me how I do it all and the truth is, sometimes I don't.
Juggling motherhood, ministry, and life in general gets really complex sometimes. Things get dropped, left out, and undone. Sometimes it's really important stuff, like a couple of days ago when I completely spaced a high priority training call and missed it.
Ugh.
Sometimes it's pretty frustrating, but I know I'm called to each of these things. God is telling me not to let go of any of the many hats I wear, so something else has to give.
What He calls me to let go of is the energy it takes to beat myself up for not being perfect.
I was really mad at myself for missing that call. I sent a couple of quick emails and text messages apologizing to the organizer and another participant and then the hard part: I had to figure out how to apologize to myself and move forward.
My husband and kids will attest this wasn't easy for me, but they knew it was important. I couldn't focus on anything else scheduled for that day if I was spending all of my energy being angry with myself.
Sisters, some of you are in the same place right now and it's really hard for me to watch you struggle through it.
However, I'm not going to step in and tell you it's all OK, because it's important to wrestle through it. The only way to know when it's time to let go, is to be fully engaged in this struggle with yourself.
You have to realize beating yourself up isn't helping anything. You have to decide when it's too much.
Some of you may be a little shocked reading this and I know it doesn't seem like much of a pep-talk. But maybe you don't need another 'life is beautiful just look around' pep-talk. Maybe you are in the middle of something really horrible and life isn't beautiful or even OK.
Don't be afraid to acknowledge where you're at right now. Don't be ashamed to be in a mess. It happens to everyone, I promise.
I'm not embarrassed to stand in this mess with you and cheer you on, but I'm not going to pull you out, nobody is. You've got to use this mess to identify the line that you never, ever need to cross again. You know the line I mean, right? The line between self-correction and belittling, discipline and abuse, making a mistake and punishing yourself for it.
The more you call it out for what it is, the easier it gets to stay on the healthy side of it.
That line is the difference between loving yourself and loving what you think you could be if you would just get out of your own way.
See the difference? It's all about perception.
So change your perception and stop waiting.
Stop waiting for the struggle to be over to love yourself.
Stop waiting for things to be perfect to smile at your reflection.
Stop waiting for all of the darkness in your life to fade away before moving closer to God.
You are not alone in your struggle. God is right next to you, ready to wrap you in His arms, and a new day is just around the corner. A fresh start, just waiting for you, to stop waiting for the right moment and just do that thing God has called you to, bravely, imperfectly, and with His unending love and grace.
So what are you waiting for sisters? What kingdom work are you going to accomplish this coming year, regardless of circumstances? Please let me know in the comments, and don't forget to join our free group of like-minded women, Christian Women Who Lead.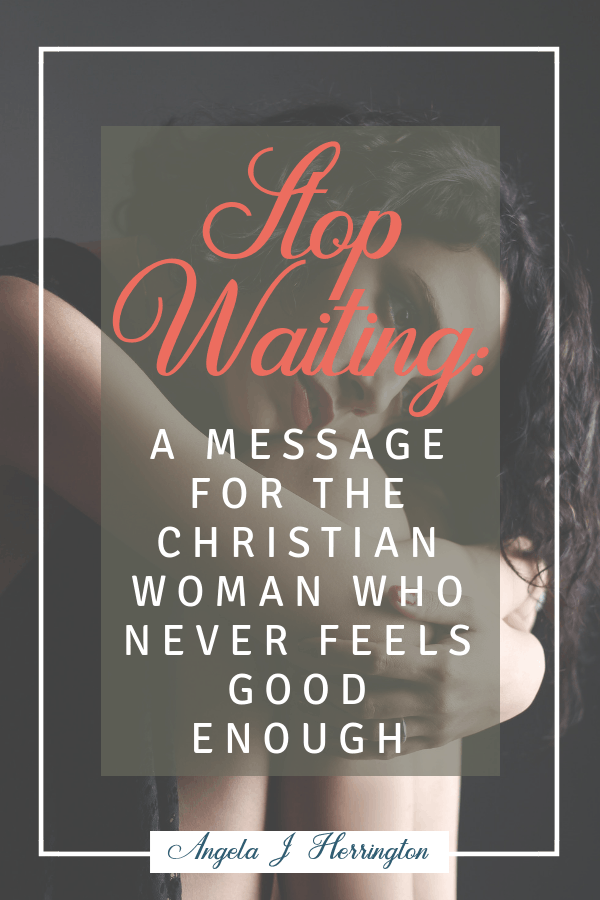 Christian Life and Leadership Coach , Angela J Herrington, loves helping women find freedom and fulfillment in their God given calling. She teaches women how to recognize, cultivate, and unleash their God given leadership ability. A true Gen Xer-Angela loves thinking outside the box, combining things that are seemingly unrelated, and helping women create a unique life that perfectly suits their soul.
With 8 years of life, business, social media, and leadership coaching under her belt Angela a dynamic speaker and writer who creates enormous value for her audiences. She is known for crushing complex topics down to bite sized pieces and sending her audience home with actionable steps to apply their learning.
Angela is a Lark's Song Certified Life Coach who reaches hundreds of thousands of women in 40+ countries each month on Facebook, Twitter, Pinterest and two blogs.
As the founder of Broken Beautiful BOLD Women's Ministry, AngelaJHerrington.com, Christian Women Who Lead, The Calling Course, The Impact Incubator, and the XGen Christian Women's Leadership Project, Angela receives rave reviews at women's ministry events, writer's conferences, and small business workshops.
Angela, her husband, and five children live in her home state of Indiana. Angela has served on the Board of Directors for Christian Coaches International, as Vice Chair of the Carey Services Board of Directors, and held multiple positions in her local church, scouting organizations, and schools.
She holds a BA in Biblical Studies from Indiana Wesleyan and a Master's in Leadership from Wesley Seminary. Angela's short story "The Turkey Trail" was published in the collection Naturally Yours: Stories About Indiana's State Parks and Reservoirs. She has been published in Hope for Women and HOPE is Now magazines.