Sometimes when I wake up in the morning, I have had such vivid dreams that I wake up disoriented and it takes a few minutes to figure out if I'm still in a dream.
For example, this morning when I woke up I was traveling with friends. We were in Alaska and our family and my friends' family were together, and we had just arrived and this amazing friend of our family, who is like the big brother I never had, had just given me this huge hug.
His hugs always say "I'm glad you're here. I know you and I'm still really glad you're here. You're safe. I've got everything covered. Relax."
So this morning when I woke up, I was still feeling that hug, and it took me a minute to realize it was a dream. I was sad. I had this little tug of war with myself because I didn't want to give up on that feeling, but obviously I was in my bed and not Alaska, so I had to let go of the dream and get out of bed. There were children that needed help getting ready for school, breakfast to cook, and lots of other things that needed to be done. Dream time was over.
Silly? Maybe, but I think we do this in real life too.
We have these dreams. We get these little visions from God where He says "This is who you are. You're safe. I'm present. I missed you. I love you, relax, you're OK." But then we wake up.
Whether it's an actual dream or a beautiful moment of presence with the Lord, we wake up, and there's laundry.
And there's groceries.
And there are emails, God bless it there are hundreds of emails that have to be answered.
So we put down our dream and get up to do what needs to be done.
We kind of lose sight of that dream and we think "OK that was nice, but it's not an everyday thing." It's like we are forced to choose between living in the present or staying all tucked in that bed not wanting to get up. It seems like holding onto that dream means not living in the real world.
But I think those dreams can exist within the day to day life.
Maybe we can't stay in bed all day or be on a mountaintop in Alaska with all of our friends and family, but I think we can cling to that sense of a big bear hug from God that seems to say "I love you. I'm glad you're here and we're gonna make it through this."
That, I think, is the blessing of those little glimpses, those little conversations with God. Even on the hard days, what God said on the good days, is still true. Unlike my dream, God is real and when He says "I love you." I don't think He means He loves us only when we're sitting at His feet and giving Him our full attention. Don't get me wrong, we need those times too, but there are time when we have to get up and do what needs to be done and I'm sure God knows that.
I think God put us in a world where there is work, family, and things to be done, and He loves us in the midst of all of those things, even when we are convinced that we aren't doing them to His standard.
So it's my hope for you that the next time you feel like you're waking up and you have to decide whether you want to stay in that hug or go out into the real world, you will find a way to tuck God's hug deep down in your soul, deep down in your heart, so it goes with you.
And because I'm a huge lover of positive reinforcement and reminders, I want you to take those words that God speaks to you and write them on a post-it notes (use the giant ones if you want!)
When God says " I love you, I'm with you, and we're gonna be OK." put that post- it note on your bathroom mirror. Fold one up and put it in your wallet. Put it on your visor in your car if you commute, or put it inside the edge of your laptop bag so that every time you see your bag you know what's in there. Use those little prompts and those happy triggers to help you stay connected to your God hug in the real world.
Because He is in the real world, He is in the mundane.
Just as much as He is in the temple and in those deeply spiritual quiet moments.
How do you stay connected to God throughout the day? I'd love to know, post your thoughts in the comments and don't forget to join the conversation over in our group of like minded women, Christian Women Who Lead!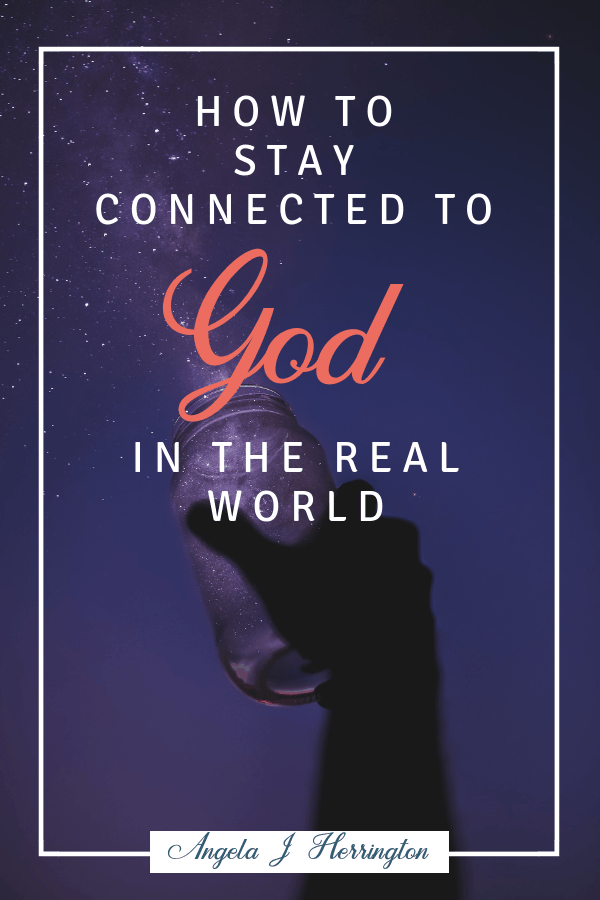 Christian Life and Leadership Coach , Angela J Herrington, loves helping women find freedom and fulfillment in their God given calling. She teaches women how to recognize, cultivate, and unleash their God given leadership ability. A true Gen Xer-Angela loves thinking outside the box, combining things that are seemingly unrelated, and helping women create a unique life that perfectly suits their soul.
With 8 years of life, business, social media, and leadership coaching under her belt Angela a dynamic speaker and writer who creates enormous value for her audiences. She is known for crushing complex topics down to bite sized pieces and sending her audience home with actionable steps to apply their learning.
Angela is a Lark's Song Certified Life Coach who reaches hundreds of thousands of women in 40+ countries each month on Facebook, Twitter, Pinterest and two blogs.
As the founder of Broken Beautiful BOLD Women's Ministry, AngelaJHerrington.com, Christian Women Who Lead, The Calling Course, The Impact Incubator, and the XGen Christian Women's Leadership Project, Angela receives rave reviews at women's ministry events, writer's conferences, and small business workshops.
Angela, her husband, and five children live in her home state of Indiana. Angela has served on the Board of Directors for Christian Coaches International, as Vice Chair of the Carey Services Board of Directors, and held multiple positions in her local church, scouting organizations, and schools.
She holds a BA in Biblical Studies from Indiana Wesleyan and a Master's in Leadership from Wesley Seminary. Angela's short story "The Turkey Trail" was published in the collection Naturally Yours: Stories About Indiana's State Parks and Reservoirs. She has been published in Hope for Women and HOPE is Now magazines.