Sometimes life blindsides us.
We find ourselves completely upended by betrayal, deceit, loneliness, or loss. Daily activities become painful and relatively straightforward decisions can cause crippling anxiety. This is especially difficult for leaders. We are used to making the right decisions under pressure. Uncertainty is not a comfortable starting point for those who usually provide guidance to others.
Fear is our natural response to uncertainty, but how we deal with it during crisis can define us.
Leaders can probably agree that being paralyzed by fear is not a good option. So the only other option is taking some sort of action. But how do we decide what to do when our reality has been shattered? Especially when we are betrayed by a close advisor or spouse, we find it difficult to trust others. We may even struggle to trust our own judgement and we question whether or not we should have trusted people or if we missed the warning signs. We are afraid of sticking our neck out again and opening ourselves up for additional pain. If the event causes public humiliation, we have to deal with the results of others losing faith in us. How do we stop the downward spiral of fear and doubt and reclaim our peace of mind?
We first must accept that fear and pain are a big part of our life for the moment, but they do not have to rule our decisions.
They act as a filter that distorts our view, but we are not powerless to recognize that distortion. Secondly, it is important to acknowledge that if we allow fear to guide our decisions we will wreak havoc on our loved ones. Many leaders respond to their fear by doubting the relationships they have built and pulling back responsibilities that had been entrusted to others. In a time of vulnerability, it would seem to make sense to go back to a safer place. Our culture tells us if we rely on our strengths and accumulate a few wins, our confidence will go up and we should feel more like ourselves. But God tells us we are to rely on His strength, not our own. We need to recognize that an emotionally safe place from our past may not provide safety now. Moving our relationships backwards (or eliminating them) may create an immediate sense of power, victory, or security, but as leaders we must refuse to put our short term emotional safety above God's promise for our life.
Chances are pretty good that if you are a leader, God has called you to be emotionally vulnerable at times.
To help understand this process we can draw on an example from nature. If you spend time at the ocean or Great Lakes you have probably seen the warning signs for undertow or riptides. When the conditions are right, there are extremely strong currents under the surface that pull swimmers out into deeper water. If a swimmer is caught in the undertow there are four basic actions he can take. He can let the tide pull him out to deeper water and then swim diagonally to shore around the current, he can attempt to swim diagonally out of the tide and back to safety, he can let the tide take him out to deeper water and tread water to see if help arrives, or he can try to overpower the undercurrent to get back to where he started. Many panicked swimmers get into trouble quickly because they try to swim back to where they started. They waste so much energy trying to get back to that place that felt safe (sound familiar?), but it only felt safe because they were not aware of the undercurrent that was waiting to sweep us away.
As leaders, we have the potential to bring healing to a crisis. But if fear rules our decisions, our organizations, ministries, and families are at risk of imploding.
We must find the right mix of bulldozing ahead and retreating into ourselves. We may have to draw (or reinforce) significant boundaries if people have betrayed our trust, but we need to do so with caution. There may be additional people in your cross-hairs that are not only aware of your pain, but also have been intentionally staying close to you to provide support when you were ready.
It requires a huge amount of humility and courage to show up and say "I am broken, but I am here." Chances are pretty good that the people you live and work with already knew that you were hurting. Being able to admit it and come to the table wounded is like letting the current pull you into that deeper water. It is scary and it feels like you are going the wrong direction, but it's helping you find safety.
Accepting our vulnerability allows us to experience powerful spiritual growth and pull closer to God.
Perhaps it is time to sidestep your gut reaction to grief and go a different direction. Let the tide carry you for a little while or swim diagonally. It may not appear to be progress, but in the long run you will see growth beyond what you thought was possible.
How do you handle fear in your life? I'd love to know! Post your thoughts in the comments and don't forget to join the conversation over in our group of like minded women, Christian Women Who Lead!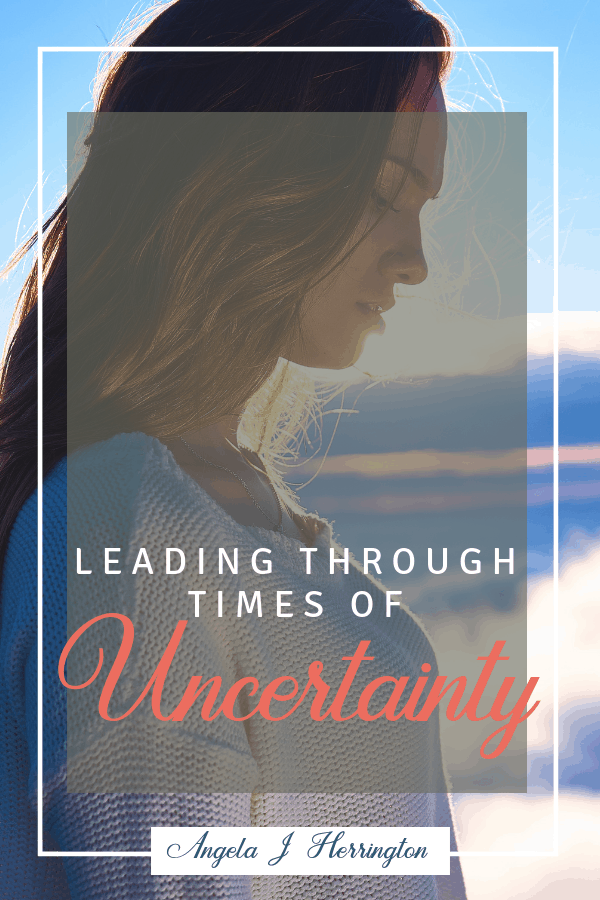 Christian Life and Leadership Coach , Angela J Herrington, loves helping women find freedom and fulfillment in their God given calling. She teaches women how to recognize, cultivate, and unleash their God given leadership ability. A true Gen Xer-Angela loves thinking outside the box, combining things that are seemingly unrelated, and helping women create a unique life that perfectly suits their soul.
With 8 years of life, business, social media, and leadership coaching under her belt Angela a dynamic speaker and writer who creates enormous value for her audiences. She is known for crushing complex topics down to bite sized pieces and sending her audience home with actionable steps to apply their learning.
Angela is a Lark's Song Certified Life Coach who reaches hundreds of thousands of women in 40+ countries each month on Facebook, Twitter, Pinterest and two blogs.
As the founder of Broken Beautiful BOLD Women's Ministry, AngelaJHerrington.com, Christian Women Who Lead, The Calling Course, The Impact Incubator, and the XGen Christian Women's Leadership Project, Angela receives rave reviews at women's ministry events, writer's conferences, and small business workshops.
Angela, her husband, and five children live in her home state of Indiana. Angela has served on the Board of Directors for Christian Coaches International, as Vice Chair of the Carey Services Board of Directors, and held multiple positions in her local church, scouting organizations, and schools.
She holds a BA in Biblical Studies from Indiana Wesleyan and a Master's in Leadership from Wesley Seminary. Angela's short story "The Turkey Trail" was published in the collection Naturally Yours: Stories About Indiana's State Parks and Reservoirs. She has been published in Hope for Women and HOPE is Now magazines.