Christian Leadership can be quite different from being a leader in life without being guided by your faith.  While some use their internal compass to guide them, we have another compass to guide us: God's word and the Holy Spirit.  Because we are lead by the Ultimate Leader, we often times find ourselves wrestling with Him, wanting to fulfill our own heart's desires while God is calling us to something more. It is during those times when it's helpful to remind ourselves that His ways are better, and if we follow Him in our business and our lives, it will usually lead to things far greater than what we could've ever imagined!
I compiled a list of my favorite blog posts about christian leadership below.  I hope they encourage you that you are on the right path, following Him every day!
A great perspective about leadership and what it looks like no matter what type of personality you are born with.
A great article about leadership and how you are called to lead from any position in life!
This is a beautiful prayer acknowledging leaders of all shapes and sizes.  Not just the larger-than-life leaders but the quiet, servant-heart leaders too.
One writer's perspective on leadership and pushing through even when we don't feel qualified to be leaders, because "Jesus asks us to offer what we have, where we are. We don't have to wait until our lives are perfect to answer that call."
I wrote this article a few years ago about Moses, his journey, and why I think the best way to be a leader is through humble submission.
My two cents on what it means to lead through tough times and how to best do that.
In this post I list practical steps and food for thought when you are feeling overwhelmed by your ministry and leadership role.  A must read for everyone!
This is a nice post about how all of the work we do is for His glory, not our own.
Did these posts encourage you in your walk as a christian leader? Please let me know in the comments, and don't forget to join our group of like minded women, Christian Women Who Lead!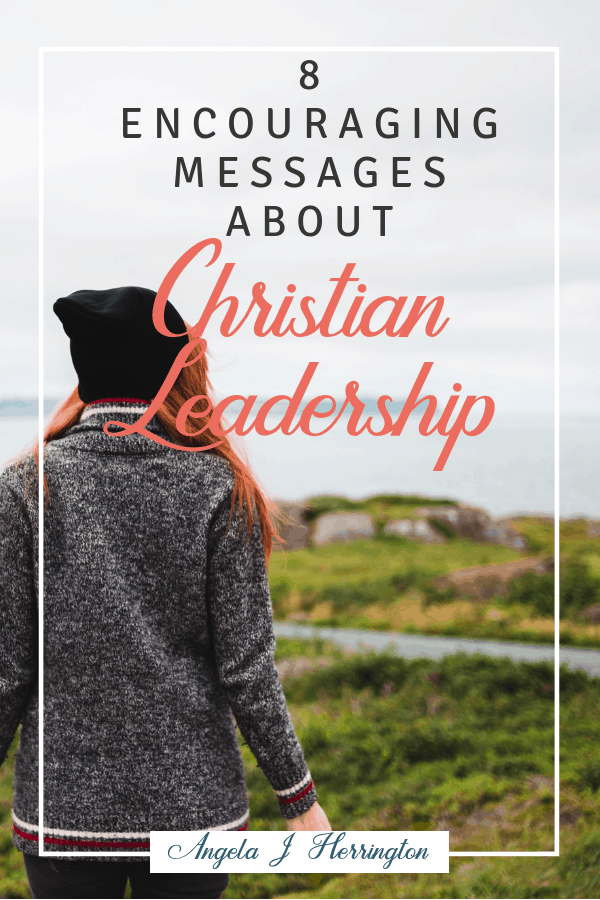 Christian Life and Leadership Coach , Angela J Herrington, loves helping women find freedom and fulfillment in their God given calling. She teaches women how to recognize, cultivate, and unleash their God given leadership ability. A true Gen Xer-Angela loves thinking outside the box, combining things that are seemingly unrelated, and helping women create a unique life that perfectly suits their soul.
With 8 years of life, business, social media, and leadership coaching under her belt Angela a dynamic speaker and writer who creates enormous value for her audiences. She is known for crushing complex topics down to bite sized pieces and sending her audience home with actionable steps to apply their learning.
Angela is a Lark's Song Certified Life Coach who reaches hundreds of thousands of women in 40+ countries each month on Facebook, Twitter, Pinterest and two blogs.
As the founder of Broken Beautiful BOLD Women's Ministry, AngelaJHerrington.com, Christian Women Who Lead, The Calling Course, The Impact Incubator, and the XGen Christian Women's Leadership Project, Angela receives rave reviews at women's ministry events, writer's conferences, and small business workshops.
Angela, her husband, and five children live in her home state of Indiana. Angela has served on the Board of Directors for Christian Coaches International, as Vice Chair of the Carey Services Board of Directors, and held multiple positions in her local church, scouting organizations, and schools.
She holds a BA in Biblical Studies from Indiana Wesleyan and a Master's in Leadership from Wesley Seminary. Angela's short story "The Turkey Trail" was published in the collection Naturally Yours: Stories About Indiana's State Parks and Reservoirs. She has been published in Hope for Women and HOPE is Now magazines.