I love driving through the small towns of Indiana.
I don't know where you're from and whether you have small towns, but in the Midwest there are lots of small towns because there are lots of railroads and rivers cutting across our state. It seems like anywhere that a major highway and river or a railroad intersect, there's a town. There's a town that sprung up because there were people traveling down those rivers and railroads and sometimes people stopped and stayed. Some of these little towns have fared well, and some have not, but I always love driving through and seeing the footprints of history.
Clock towers, slate roofs, all these things inspire me because they're different from what is fashionable today and they make me wonder.
They spur my imagination to life and I think about women in high collars and long skirts standing on a balcony overlooking the river. I look the other way and imagine men with straw hats unloading a barge while a boy tends to the mule on the towpath.
What was it like to live in these communities in prior years and see the fancy men and women strolling to the theater or a Sunday social?
These day dreams remind me that this place in time, is mine, but it's not the only place in time that exists. A hundred years from now people driving down these streets and seeing these old buildings probably aren't going to think of me, but perhaps they'll think of this season in our community. Perhaps they'll think about what life might have been like. Will it be the golden era of technology? I don't know what the future will say about us, but remembering that our lives are only a small segment on the greater timeline of humanity is important. It helps us gain perspective to know that thousands of men and women proceeded us, and many more will follow.
This perspective keeps me from thinking that this is some 'now or never' moment that will be catastrophic if I don't follow through.
It brings a little humility to my life to think about all the great men and women who've gone before us and those who will come after us. How many of them are unknown to us? And yet we can see buildings, gardens, and roads that were created in their era. The people are gone, but the spaces they created live on. It's beautiful to realize there were seeds that were planted, literally and metaphorically, in their lives that trickle out into ours today because God is faithful and continued to cultivate their dreams long after their lives faded.
The old country churches in the middle of nowhere are particularly inspiring to me.
I often see them when darting down country roads ten, twenty, or even thirty miles from the nearest town. Often times there is a little cemetery with weathered, mossy stones behind the church, a small gravel parking lot, and nothing else in sight for miles. Each time I see one I am reminded that there have been people sitting in those pews for a hundred years, but first there was enough hunger, there was enough desire, for a gathering place, that this little wooden structure needed to be built. And that is my hope for you, dear sister.
I hope and pray that you are hungry enough for a sacred space that you create it in your life.
Maybe God is calling you to build a huge cathedral, a little country church, or maybe your calling is a simple picnic blanket in the yard, but it's my hope that you sense that calling to create a sacred gathering space for others so that they may see God more clearly. No matter what it looks like, God is in it so please sister, make it a priority.
A Christian leader is called to create sacred spaces where people can gather, hear what God has done, and how He loves them.
So use your influence in your community to carve out time and space for people who are hungry for Jesus. Whatever your community looks like, whether it's online, in person, or perhaps a hybrid of the two, I challenge you to look for ways to create those sacred spaces for people to gather, learn, and worship together.
Because it's within those sacred gathering spaces that children come to vacation bible school, hungry people come for food, and the lost find their way home.
So find ways to spend a few minutes a week reaching out to someone who feels unseen, or unconnected, or even just overwhelmed. A few kind words can make a huge difference. Think of Zacchaeus in his tree or the woman in the crowd with the bleeding disorder. These were not the most important people in town. They were just two examples of children of God who went unseen, unwelcome, and shut out from the sacred spaces where the "faithful" gathered. But Jesus made time and space for them where they could be in His presence.
Jesus saw them as He had always seen them, without the layers of stigma and shame the community piled upon their heads.
This is the legacy of leadership that Christ left each of us.
This is your legacy sister.
Embrace it.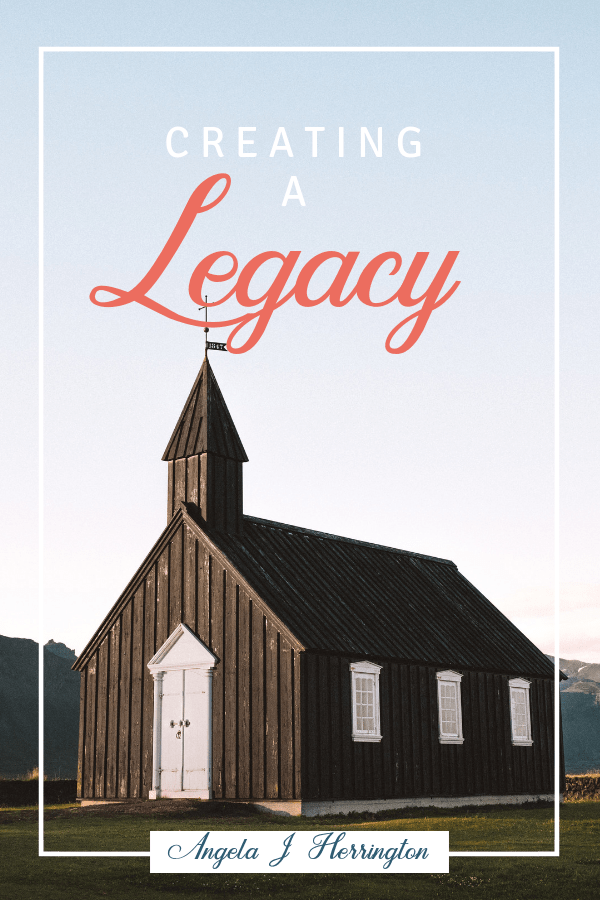 Christian Life and Leadership Coach , Angela J Herrington, loves helping women find freedom and fulfillment in their God given calling. She teaches women how to recognize, cultivate, and unleash their God given leadership ability. A true Gen Xer-Angela loves thinking outside the box, combining things that are seemingly unrelated, and helping women create a unique life that perfectly suits their soul.
With 8 years of life, business, social media, and leadership coaching under her belt Angela a dynamic speaker and writer who creates enormous value for her audiences. She is known for crushing complex topics down to bite sized pieces and sending her audience home with actionable steps to apply their learning.
Angela is a Lark's Song Certified Life Coach who reaches hundreds of thousands of women in 40+ countries each month on Facebook, Twitter, Pinterest and two blogs.
As the founder of Broken Beautiful BOLD Women's Ministry, AngelaJHerrington.com, Christian Women Who Lead, The Calling Course, The Impact Incubator, and the XGen Christian Women's Leadership Project, Angela receives rave reviews at women's ministry events, writer's conferences, and small business workshops.
Angela, her husband, and five children live in her home state of Indiana. Angela has served on the Board of Directors for Christian Coaches International, as Vice Chair of the Carey Services Board of Directors, and held multiple positions in her local church, scouting organizations, and schools.
She holds a BA in Biblical Studies from Indiana Wesleyan and a Master's in Leadership from Wesley Seminary. Angela's short story "The Turkey Trail" was published in the collection Naturally Yours: Stories About Indiana's State Parks and Reservoirs. She has been published in Hope for Women and HOPE is Now magazines.